How To Book 
KENNY G
For Your Event!

Kenny G may be available for your next special event!

Hits include:
By The Time This Night Is Over
Forever In Love
Don't Make Me Wait For Love
Silhouette
Auld Lang Syne
We've Saved The Best For Last
Going Home
The Way You Move
We Wish You A Merry Christmas
What Does It Take (To Win Your Love)
The Moment
My Heart Will Go On
One More Time
My Favorite Things
What A Wonderful World
Hi, How Ya Doin'?
Songbird
Love On The Rise
By The Time This Night Is Over
Sentimental
Genre:  Jazz
Styles:  Adult Contemporary, Smooth Jazz, Crossover Jazz, Jazz-Pop, Contemporary Jazz, Pop, Saxophonist
Years active:  1973-present
How To Hire KENNY G For A Private Party Or Special Event!
GRAMMY AWARD winning Kenneth Bruce Gorelick, known professionally as Kenny G, is an American smooth jazz saxophonist, composer, and producer.
The musical style of Kenny G (born Kenny Gorelick) has been called, smooth, soulful, melodic and romantic. His trademark jazz/rhythm and blues/pop and funk places him in a rare stratosphere of artists. His 1986 album Duotones brought him commercial success. Kenny G is one of the best-selling artists of all time, with global sales totaling more than 75 million records.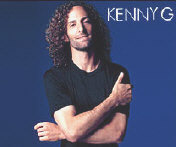 Kenny G had his just "moment" one night when he was 10 years old, watching a saxophone player on the Ed Sullivan Show. There have been many moments since: including being named Billboard Magazine's "Jazz Artist of The Decade" ('80s), being named top instrumentalist in Playboy, Downbeat, and Rolling Stone Magazine's Readers Polls, performing at the 1993 Presidential Inauguration, performing at the 1996 Democratic National Convention, winning a Grammy Award in 1993 for "Forever In Love," winning the American Music Award for Favorite Adult Contemporary Artist in 1994 and being named on the R.I.A.A. (Recording Industry Association of America) list of the 25 Top Selling Artists of All Time – not to mention the fact that his eight albums have sold more than 36 million copies worldwide to date.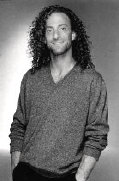 Kenny G says, "My inspiration comes from many different places and at very unexpected times. That's the beauty of creativity. I feel that really experiencing the moments of our lives is the only way to really live."
After his mother rented his first saxophone, Kenny played in the school bands. His musical education, however, consisted mainly of him staying home and practicing along with records (mostly of Grover Washington Jr.) trying to emulate the sounds that he was hearing. Kenny's high school band director got him his first professional job as sax soloist for a Barry White show in his hometown of Seattle. Kenny was just 17 years old.
At the University of Washington, Kenny's college band director (Roy Cummings) encouraged him to listen to some of the all-time great sax players such as Charlie Parker, John Coltrane and Sonny Rollins and this increased Kenny's musical vocabulary. During these college days (1974 – 1978) Kenny played with a local soul group called Cold, Bold & Together.
22 year old Kenny Gorelick joined Jeff Lorber's band and toured the USA for the first time. It was during this stint that Arista Records President, Clive Davis saw Kenny play and later approached Jeff Lorber with the idea of a Kenny Gorelick solo album. His debut album, "Kenny G" was recorded in 1982.
The next two albums, "G-Force" and "Gravity" were collaborations with producer Kashif and the late Wayne Braithwaite. "I learned a lot about producing and writing during this period and also what kind of music was really me."
But it wasn't until 1986 with his fourth album, "Duotones," Kenny felt that his true voice finally came out. Kenny played all of the instruments on the first single, "Songbird" and produced the sound that has been his signature ever since "Songbird" went to # 4 on the Billboard Pop Chart. Next, the self-produced, multi-platinum, "Silhouette," Kenny's fifth album, produced the mega-smash "Silhouette."
Kenny wrapped up the '80s with his sixth and only double album to date, "Kenny G Live," which Kenny says "captured the live experience that I felt was more of a true representation of my sound." Kenny's first full length home video was also derived from this project. "Kenny G Live" has sold more than three million units nationally and the video is double platinum.
"Breathless," the seventh album for Kenny, made history and broke chart and sales records. The album set a record by staying # 1 on the Contemporary Jazz Chart for more than 100 weeks and made history by becoming the # 1 Instrumental Album of all time and propelling Kenny G into the superstar universe and the #1 Instrumentalist of all time. The single, "Forever In Love" from the album earned him a Grammy Award and the album stayed on the Billboard Pop Album Chart for 4 years after its release.
What is now a holiday classic, Kenny G's eighth album, "Miracles: The Holiday Album" (released in '94), shattered a long standing record to become the biggest selling holiday album in history and the only holiday album to reach # 1 on the Billboard Album Chart in three decades. "I was reluctant to record a Christmas record as I thought that making a Christmas album was in some way making a religious statement. But after first experimenting with the recording of 'White Christmas,' all I heard was a beautiful song with a beautiful melody and I was hooked."
Kenny G has pioneered his career with his distinctive "sax sound" which blossomed into # 1 albums, # 1 singles, Grammy, Billboard and American Music Awards, sold-out tours and eventually re-writing chart history. His accomplishments are impressive by any artist standards, many are unprecedented by any other instrumentalist.
Hire Kenny G for your party or event!
Kenny G may be available for your next special event!
Book Kenny G, now!
Frequently Asked Questions About How To Hire KENNY G for a private party or special event.
HOW TO BOOK KENNY G?
(i.e., how to hire KENNY G for an event)
You are currently on the official site of De La Font Agency. For more than 50 years, we have successfully helped official talent buyers around the world secure quality talent.
We welcome the opportunity to be of service to you. Let's do this the right way! Let's save you time and frustration!
Simply click on the "Let's Get Started!" link found on this page. Then, send us your request for booking information.
Include information about your plans for your event and how taking steps to hire KENNY G (or someone similar) might be of special interest.
If you decide you want to look at other names, simply include your talent-fee budget range and indicate that you want to see who else you might be able to afford with such a budget. We can send you a list of names that are affordable and in the style of music you prefer. We hope to save you time and frustration!
HOW MUCH DOES IT COST TO BOOK/HIRE KENNY G?
(i.e., what is the booking fee to hire KENNY G for an event?)
(i.e., what is KENNY G booking fee to perform at an event?)
Official booking fees for KENNY G, or any other celebrity, are determined based on a number of factors and may change at anytime without prior notice.
Factors influencing pricing vary and may include date, location, type of event, whether a private party or a public concert, the artist's calendar, whether the artist is on tour or not, how well tickets are selling at the artist's concerts, the current demand for the artist's music, market activity, etc.
As you might expect, the more in-demand the artist is, the more buyers are prepared to pay. Of course, this causes the artist's price to increase as the artist becomes more popular or decrease when becoming less popular.
Exclusive agents with exclusive representation frequently quote a range instead of a specific price, since changes can occur at anytime. Generally, the artist's manager has a role in the decision to accept any particular offer from a talent buyer.
To learn the most current artist's pricing, or the estimated artist's fee for your particular event, simply click on the "Let's Get Started!" link found on this page. Then, send us your request for booking information.
IS KENNY G AVAILABLE TO WORK MY EVENT?
(i.e., what is KENNY G's availability?)
To learn the artist's current availability for your special event, simply click on the "Let's Get Started!" link found on this page. Then, send us your request for booking information.
Once we have your event/party information, we will be better able to assist you with putting your entertainment talent booking plans in place as your entertainment consultant. Let's get this done right! We look forward to working with you!
This is the month of February update of this page. Artist booking agent available. Artist cost, artist booking fee and artist booking price are available.
TAGS
Genre: Jazz
Styles:
.Adult Contemporary. / AdultContemporary
.Smooth Jazz. / SmoothJazz
.Crossover Jazz. / CrossoverJazz
.Jazz-Pop. / JazzPop
.Contemporary Jazz. / ContemporaryJazz
.Easy Listening. / EasyListening
.Pop. / xPop
.Saxophonist. / xSaxophonist
Years active:
x70s, x80s, x90s, x00s, x10s, x20s
1973-present
Born: ..in Washington state / born nWashington
Born: ..in Seattle / born SeattleWA
Born:   Jul 5, 1956
Based: ..in US
Tag: Jewish Musical Artists, xJewish
Copyright 1997-2023 Richard De La Font Agency, Inc.. Unauthorized copying, reproduction, broadcast, use or sale of any and/or all portions of this web site is strictly prohibited. All rights reserved. Images are for promotional use by Richard De La Font Agency only. Images may not be copied, modified or reused. This company acts as an entertainment consultant or broker/producer and does not claim or represent itself as the exclusive agent, representative or management of the artists listed on this site.