How To Book 
WILLIE NELSON 
For Your Event!

Willie Nelson may be available for your next special event!

Hits include:
Always on My Mind
Angel Flying Too Close to the Ground
Blue Eyes Crying In The Rain
City of New Orleans
Forgiving You Was Easy
Georgia On My Mind
Good Hearted Women
Heartbreak Hotel
I Can Get Off On You
If You've Got The Money I've Got The Time
Just To Satisfy You
Living in the Promiseland
Mammas Don't Let Your Babies Grow Up To Be Cowboys
My Heroes Have Always Been Cowboys
Nothing I Can Do About It Now
On The Road Again

Genre:  Country
Styles:  Outlaw Country, Nashville Sound/Countrypolitan, Country-Pop, Progressive Country, Traditional Country, Country-Rock, Acoustic Guitar, Texas Country
Years active:  1956-present
How To Hire Willie Nelson For A Private Party Or Special Event!
GRAMMY AWARD winning Willie Nelson is an American musician, actor, and activist.
He was one of the main figures of outlaw country, a subgenre of country music that developed in the late 1960s, as a reaction to the conservative restrictions of the Nashville sound.
If ever the words "living legend" were more than just public relations bluster, the application would be to Willie Nelson.
The iconic Texan is the creative genius behind historic recordings like "Crazy," "Hello Walls," "Red Headed Stranger," and "Stardust." His career has spanned six decades. His catalog boasts more than 200 albums. He's earned every conceivable award and honor that can be bestowed to a person in his profession. And he has also amassed reputable credentials as an author, actor and activist.
In many ways, however, the weighty distinction "living legend" does Willie Nelson a disservice, for it discounts the extent to which he is a thriving, relevant and progressive musical force. Also, he has established himself as a top television ratings draw.
Most importantly, the music of Willie Nelson is as adventurous as ever – mixing sounds and styles, bending genre boundaries and engendering the talents of today's most vibrant artists.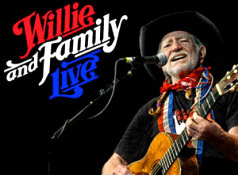 Willie Nelson embarked on a warmly received tour of minor league baseball parks with Bob Dylan. He played Farm Aid in Seattle, an event he continues to support after co-founding it in 1985. A USA Network special became the highest-rated live musical event in the history of cable television.
As ever, he tours tirelessly, climbing aboard Honeysuckle Rose III (he rode his first two buses into the ground) and takes his music and his fans on a seemingly endless journey to places that were well worth the ride.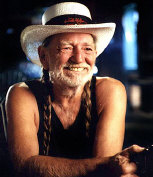 Born April 30, 1933 in Abbott, Texas, Willie Nelson and his sister were raised by their paternal grandparents, who encouraged both children to play music. He began writing songs in elementary school, and played in bands as a teenager. After high school he served a short stint in the Air Force, but music was a constant pull.
By the mid Fifties he was working as a country deejay in Fort Worth, Texas, while continuing to pursue a musical career, recording independently and playing nightclubs. He sold some of his original compositions, including "Family Bible," which became a hit for Claude Gray in 1960.
That success and others convinced Willie Nelson to move to Nashville, where record labels were initially resistant. His songwriting talents were quickly embraced, however, and 1961 proved to be his breakthrough year. His "Hello Walls" became a nine-week No. 1 for Faron Young, and Patsy Cline's version of "Crazy" became an instant classic.
In 1962, Willie Nelson scored his first two top 10 hits as a recording artist for Liberty, but struggled for a breakthrough for the remainder of the decade. Disillusioned with Nashville and with his label RCA's insistence on lush, string-laden arrangements, he moved back to Texas in 1972. Emboldened by the rock and folk music becoming popular in Austin, Willie and his music began to change.
His first Atlantic album, 1973's "Shotgun Willie" got the attention of music critics if not the masses, and the 1974 follow-up "Phases & Stages" helped him build a loyal following. The breakthrough he'd been seeking for the better part of two decades came in 1975 when he parted ways with Atlantic and signed with Columbia.
"Red Headed Stranger" became one of country's most unlikely hits. The acoustic concept album vaulted Willie Nelson to country music's top ranks, much to the surprise of Music Row. Willie's convention-busting stardom, combined with the concurrent popularity of maverick Waylon Jennings, prompted journalist Hazel Smith to dub the trend "Outlaw Music" and a movement was underway.
RCA seized on the phenomenon, compiling an album of previously recorded material from Willie, Waylon, Tompall Glaser and Jessi Colter. "Wanted: The Outlaws" spawned the Nelson/Jennings duet "Good Hearted Woman" and quickly became the best selling album country had ever seen.
A fixture on the singles charts over the next several years, Willie's star rose even further with the 1978 releases "Waylon & Willie" and "Stardust." The former included "Mamas Don't Let Your Babies Grow Up To Be Cowboys." The latter, a collection of pop standards, further exhibited Nelson's ability to defy expectations on the way to tremendous success.
Nelson's stardom soon translated to another medium with roles in feature films including The Electric Horseman, Honeysuckle Rose, Stagecoach and many more. And the hits kept coming.
"On The Road Again" reached the top of the charts in 1981, "Always On My Mind" was a crossover smash in 1982, and a duet with Latin pop star Julio Iglesias, "To All The Girls I've Loved Before," raced up the charts in 1984.
Willie enlisted Kris Kristofferson and Johnny Cash for the Highwaymen album, released in 1985. That same year he founded Farm Aid, an organization dedicated to championing the cause of family farmers. Farm Aid's annual televised concert special raises funds and, along with the Willie's annual Fourth of July picnic, has become a cornerstone of his live touring schedule.
The Nineties brought more success, and one notable challenge. A $16.7 million dollar bill from the IRS forced Nelson to sell many of his assets, including homes, and resulted in the release of "The IRS Tapes: Who'll Buy My Memories." Willie cleared the debt by 1993, and was inducted into the Country Music Hall of Fame that same year.
But enshrinement didn't slow his creative energy, and the decade produced artistic triumphs including "Across The Borderline." The album featured Bob Dylan, Sinead O'Connor and Paul Simon among its many guests.
Signing with Island/Def Jam in 1996, Willie Nelson embarked on another fertile period, releasing "Spirit," the acclaimed "Teatro" and an instrumental-focused album called "Night and Day" as the millennium drew to a close.
His association with Universal continued with "Lost Highway," with 2003 proving to be another landmark. In addition to turning 70, Willie Nelson released "Run That By Me One More Time," a collaboration with Ray Price featuring new recordings from their combined 50 years of catalog.
Columbia/Legacy released "The Essential Willie Nelson," which spans his earliest recordings as well as the celebrated Island/Def Jam material. "Willie Live & Kickin'" also hit stores following his top-rated USA Network Memorial Day cable special. The album included guest vocalists ranging from Norah Jones to Toby Keith, with whom Willie Nelson performed his No. 1 single, "Beer For My Horses."
Nelson's 2003 endeavors earned him four Grammy nominations to go with a career that has been recognized with eight Grammy wins, a President's Merit Award, a Grammy Legend Award and the prestigious Lifetime Achievement Award. In 2004, the Academy of Country Music recognized him with the Video of the Year Award for "Beer For My Horses," and the prestigious Gene Weed Special Achievement Award, honoring Nelson's "unprecedented and genre-defying contributions to popular music over his 50-year career."
Hire Willie Nelson for your party or event!
Willie Nelson may be available for your next special event!
Book Willie Nelson, now!
Frequently Asked Questions About How To Hire WILLIE NELSON for a private party or special event.
HOW TO BOOK WILLIE NELSON?
(i.e., how to hire WILLIE NELSON for an event)
You are currently on the official site of De La Font Agency. For more than 50 years, we have successfully helped official talent buyers around the world secure quality talent.
We welcome the opportunity to be of service to you. Let's do this the right way! Let's save you time and frustration!
Simply click on the "Let's Get Started!" link found on this page. Then, send us your request for booking information.
Include information about your plans for your event and how taking steps to hire WILLIE NELSON (or someone similar) might be of special interest.
If you decide you want to look at other names, simply include your talent-fee budget range and indicate that you want to see who else you might be able to afford with such a budget. We can send you a list of names that are affordable and in the style of music you prefer. We hope to save you time and frustration!
HOW MUCH DOES IT COST TO BOOK/HIRE WILLIE NELSON?
(i.e., what is the booking fee to hire WILLIE NELSON for an event?)
(i.e., what is WILLIE NELSON booking fee to perform at an event?)
Official booking fees for WILLIE NELSON, or any other celebrity, are determined based on a number of factors and may change at anytime without prior notice.
Factors influencing pricing vary and may include date, location, type of event, whether a private party or a public concert, the artist's calendar, whether the artist is on tour or not, how well tickets are selling at the artist's concerts, the current demand for the artist's music, market activity, etc.
As you might expect, the more in-demand the artist is, the more buyers are prepared to pay. Of course, this causes the artist's price to increase as the artist becomes more popular or decrease when becoming less popular.
Exclusive agents with exclusive representation frequently quote a range instead of a specific price, since changes can occur at anytime. Generally, the artist's manager has a role in the decision to accept any particular offer from a talent buyer.
To learn the most current artist's pricing, or the estimated artist's fee for your particular event, simply click on the "Let's Get Started!" link found on this page. Then, send us your request for booking information.
IS WILLIE NELSON AVAILABLE TO WORK MY EVENT?
(i.e., what is WILLIE NELSON's availability?)
To learn the artist's current availability for your special event, simply click on the "Let's Get Started!" link found on this page. Then, send us your request for booking information.
Once we have your event/party information, we will be better able to assist you with putting your entertainment talent booking plans in place as your entertainment consultant. Let's get this done right! We look forward to working with you!
Copyright 1997-2022 Richard De La Font Agency, Inc.. Unauthorized copying, reproduction, broadcast, use or sale of any and/or all portions of this web site is strictly prohibited. All rights reserved. Images are for promotional use by Richard De La Font Agency only. Images may not be copied, modified or reused. This company acts as an entertainment consultant or broker/producer and does not claim or represent itself as the exclusive agent, representative or management of the artists listed on this site.