How To Book 
KENNY CHESNEY 
For Your Event!

Kenny Chesney may be available for your next special event!

Hits include:
Anything But Mine
Beer In Mexico
Don't Blink
Don't Happen Twice
How Forever Feels
Living In Fast Forward
Never Wanted Nothing More
She's Got It All
Summertime
There Goes My Life
When The Sun Goes Down
You Had Me From Hello
The Good Stuff
I Go Back
Me And You
No Shoes, No Shirt, No Problems
Shiftwork
That's Why I'm Here
When I Close My Eyes
Who You'd Be Today
Genre:  Country
Styles:  Country-Rock, Neo-Traditionalist Country, Contemporary Country
Years active:  1988-present
A-List:  Country
How To Hire KENNY CHESNEY For A Private Party Or Special Event!
Are you considering whether to hire Kenny Chesney? While other artists have streaked momentarily across the musical landscape only to fade back into obscurity, Kenny Chesney has built his career the old-fashioned way: one step, one hit, one gold record at a time – "like a slow burning fuse on the way to a big explosion" is how BILLBOARD described Chesney's gradual yet steady ascension.
"It has been a slow build," says the 29-year-old East Tennessee-born singer, whose first single release, aptly titled "Whatever It Takes," came out in November, 1993. "All along I've just tried to learn everything I can and take small, little-bitty steps, no matter what they were, just knowing that one day I'd be able to look back and see I've covered a lot of ground. And it's worked, especially in the past couple of years. We've really established a fan base, and it's continuing to grow."
"Conway Twitty was always one of my favorite performers, and he always said that he tried to record songs that the women loved, and which said things that the men always wanted to say to the women but couldn't. Well, if I can do that too, then that's definitely what I want to do."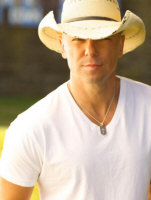 Other musical dimensions and ambitions are also fleshed out by this versatile, seasoned young artist who grew up in Luttrell, Tennessee, (the birthplace of Chet Atkins) surrounded by country music, but listening to "everything from old Keith Whitley and Ricky Skaggs bluegrass records and George Jones to Lynyrd Skynyrd and James Taylor."
"No matter how good a song is, I just can't make it believable if my heart's not a hundred percent into it, and ultimately that's what I have to go on," he explains of his arduous song-screening process. "I've passed on songs that I knew would be hits and later were big hits by other artists. But that's okay, because I know they wouldn't have been hits for me, because my heart wouldn't have been in them."
If Chesney's career has unfolded a little differently than others, it should be no surprise that his personal history, as it pertains to his musical development, has a few unique twists, as well.
"I'm not one of these guys who can sit here and tell you that since I was four years old I knew I wanted to be a country singer," Chesney laughs. "I think it's often b.s. when people say that anyway. To be honest, I never dreamed about being a singer as a kid. Never once gave it a thought. I was mainly just growing up and playing sports. I didn't know what I wanted to do until I was in college at East Tennessee State in Johnson City. "Even then," he adds, "it wasn't like I just woke up one day and decided, I'm gonna be a country singer!' It just happened, just evolved into what I do. I was in college, I got a guitar, I learned a lot about it. Then all the sudden I'd written a few songs, then I was out playing clubs and making a little money here and there. And ya know, about another year after that I was doing it all the time. It wasn't till I got out in the clubs that anyone ever said to me, 'Man, you really oughta try to do something with this.'"
Kenny Chesney became a fixture at prestigious Johnson City area venues – a Mexican restaurant called Chuckie's Trading Post and Quarterback's Barbecue. "The scene up there then was mostly blues, rock, and folk," he recalls. "I was about the only one doing George Jones and Hank, Jr. I got to where I had a pretty good following."
An awakening of sorts came when he went into the Classic Recording Studio in Bristol, Virginia. Backed by several musicians he knew from college who are now the core of Alison Krauss' band, he recorded an album's worth of songs he'd written. When he pressed up a thousand copies and sold them all at his shows and made enough to buy a new Martin guitar, he realized he was onto something.
A month after graduating college with a degree in advertising he headed down I-40 West to Nashville in early 1991 where, "I dug my feet in, took a deep breath, and went for it."
The going was slow the first couple years. He made the rounds of the publishing companies without much success. He went to see the only person he knew in the business, producer Kyle Lehning, who told him, "You've definitely got something, but it ain't there yet."
Setting out to meet as many people in the business as he could, Kenny Chesney made one steadfast ally: Clay Bradley, head of publisher/writer relations at BMI. After countless turndowns by publishers, Bradley, in 1992, set up an audition with Acuff-Rose, one of Music City's oldest and most venerated song mills. Chesney came out of the audition with a songwriter's contract. A year or so later, an appearance one night at a songwriter's showcase led to a recording contract with Capricorn Records, which had recently started a country division. "The whole Capricorn deal was a very big emotional roller coaster ride," Chesney remembers. "Of course, for that matter, the whole music business is the biggest roller coaster ride in the world."
Ultimately, Capricorn had neither the clout or the staying power to get much done with Chesney's impressive debut album. He'd had only a couple of modest chart singles when the label closed its Nashville office. But one of his 1994 singles, a song he wrote called "The Tin Man," stirred considerable interest up and down the Row, despite only making it to Number 70. Almost immediately there was interest from several majors. RCA's Joe Galante put in a call and not only offered Chesney a contract, but also offered to buy the masters of his Capricorn album.
That's when the long, slow climb began in earnest. Though his Capricorn LP sold only about 100,000 units, "All I Need To Know," his debut 1995 BNA disc, more than tripled that figure, setting the stage for his gold-certified second BNA album, "Me and You."
"I'd be lying if I told you there wasn't a lot of frustration at first because I wasn't getting much airplay and was kind of perceived as an independent artist," Chesney acknowledges. "But my real goal in this business is to treat people good and build the kind of relationships so I can stay around a long time. Ten or even twenty years from now, if I'm still lucky enough to be having hits, or even if I'm not, I still would like to be able to go out and tour all year long."
"Well, I don't know how long the good Lord's gonna let me be in this music business, or even be this successful at it," he adds with a warm, measured smile. "So while I'm here I want to enjoy every minute of it."
Hire Kenny Chesney for your party or event!
Kenny Chesney may be available for your next special event!
Book Kenny Chesney, now!
Frequently Asked Questions About How To Hire KENNY CHESNEY for a private party or special event.
HOW TO BOOK KENNY CHESNEY?
(i.e., how to hire KENNY CHESNEY for an event)
You are currently on the official site of De La Font Agency. For more than 50 years, we have successfully helped official talent buyers around the world secure quality talent.
We welcome the opportunity to be of service to you. Let's do this the right way! Let's save you time and frustration!
Simply click on the "Let's Get Started!" link found on this page. Then, send us your request for booking information.
Include information about your plans for your event and how taking steps to hire KENNY CHESNEY (or someone similar) might be of special interest.
If you decide you want to look at other names, simply include your talent-fee budget range and indicate that you want to see who else you might be able to afford with such a budget. We can send you a list of names that are affordable and in the style of music you prefer. We hope to save you time and frustration!
HOW MUCH DOES IT COST TO BOOK/HIRE KENNY CHESNEY?
(i.e., what is the booking fee to hire KENNY CHESNEY for an event?)
(i.e., what is KENNY CHESNEY booking fee to perform at an event?)
Official booking fees for KENNY CHESNEY, or any other celebrity, are determined based on a number of factors and may change at anytime without prior notice.
Factors influencing pricing vary and may include date, location, type of event, whether a private party or a public concert, the artist's calendar, whether the artist is on tour or not, how well tickets are selling at the artist's concerts, the current demand for the artist's music, market activity, etc.
As you might expect, the more in-demand the artist is, the more buyers are prepared to pay. Of course, this causes the artist's price to increase as the artist becomes more popular or decrease when becoming less popular.
Exclusive agents with exclusive representation frequently quote a range instead of a specific price, since changes can occur at anytime. Generally, the artist's manager has a role in the decision to accept any particular offer from a talent buyer.
To learn the most current artist's pricing, or the estimated artist's fee for your particular event, simply click on the "Let's Get Started!" link found on this page. Then, send us your request for booking information.
IS KENNY CHESNEY AVAILABLE TO WORK MY EVENT?
(i.e., what is KENNY CHESNEY's availability?)
To learn the artist's current availability for your special event, simply click on the "Let's Get Started!" link found on this page. Then, send us your request for booking information.
Once we have your event/party information, we will be better able to assist you with putting your entertainment talent booking plans in place as your entertainment consultant. Let's get this done right! We look forward to working with you!
Copyright 1997-2022 Richard De La Font Agency, Inc.. Unauthorized copying, reproduction, broadcast, use or sale of any and/or all portions of this web site is strictly prohibited. All rights reserved. Images are for promotional use by Richard De La Font Agency only. Images may not be copied, modified or reused. This company acts as an entertainment consultant or broker/producer and does not claim or represent itself as the exclusive agent, representative or management of the artists listed on this site.