How To Book 
JOHN LEGEND 
For Your Event!

John Legend may be available for your next special event!

Hits include:
Save Room
Used To Love U
Another Again
Slow Dance
Number One
If You're Out There
Green Light
Everybody Knows
Wake Up Everybody
Shine
Tonight (Best You Ever Had)
You & I (Nobody In The World
All Of Me
Made To Love
Heaven
Conversations in the Dark
Hallelujah
Beauty and the Beast
Love Me Now
Glory
So High
Ordinary People

Genre:  R&B
Styles:  Contemporary R&B, Neo-Soul, Soul, Hip-Hop Soul, Urban, Adult Contemporary R&B, Pop, Pianist
Years active:  1997-present
How To Hire John Legend For A Private Party Or Special Event!
GRAMMY AWARD winning R&B artist, John Legend, was born John Stephens. He was given the name Legend by a friend from Chicago who thought he sounded like an old school artist.
Philly-bred singer, songwriter and pianist John Legend was born into a musical family that was active in the church. His brother is singer Vaughn Anthony. With such influence, the young Legend embraced gospel, classic soul and hip-hop. The fusion of all three currently epitomizes his unique sound.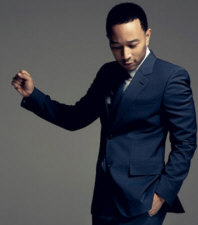 His family moved from Ohio to Pennsylvania when he was a child. He was playing the piano and singing in the church choir from an early age. He performed and recorded with various groups as well as a solo artist while attending college at the University of Pennsylvania in Philadelphia and subsequently became seriously involved with the area's neo-soul explosion of the late 1990s.
The musical influences of his childhood included classic Soul and Gospel singers ranging from Stevie Wonder and Al Green to Shirley Caesar and Edwin Hawkins, as well as more modern acts like Jodeci and Boyz II Men. He served as musical director at Bethel A.M.E. church for nearly a decade during high school and college.
Before becoming a mainstream artist, John Legend often hit the nightclub circuit in New York City, Philadelphia, and Washington, DC, performing as an independent artist and distributing live LPs such as "Live at SOB's". It was John Legend's roommate and former classmate at Penn, Devon Harris, who introduced Legend to his cousin and then up-and-coming hip hop artist Kanye West.
Since that meeting, John Legend and Kanye West have worked closely together. Legend is also signed to West's label, "G.O.O.D. Music" label. Legend sang many of the melodic hooks on West's demo, which would eventually become the Grammy Award winning "The College Dropout" and West provided rhythm tracks for Legend's demo, which would evolve into "Get Lifted."
"Get Lifted" was his major label debut album, released by Columbia Records in 2004, although he had already amassed numerous credits, including session work with Alicia Keys, Janet Jackson, Talib Kweli, Jay-Z, Britney Spears, the Black Eyed Peas and Lauryn Hill.
 John Legend contributed to fellow G.O.O.D artist Common's LP, "Be."
Legend's most important musical association has been with Kanye West. In 2003 Kanye West signed John Legend as the first artist to his production company, KonMan Entertainment, leading to the deal with with Columbia Records.
John Legend made his debut film appearance in Loverboy with Kevin Bacon and Marisa Tomei.
Asked to describe his style, John Legend says, "It's very soulful, rooted in gospel but with hip-hop beats and unique, witty lyrics, more 'major' than 'minor', more of a 'feel good,' upbeat sound."
Hire John Legend for your party or event!
John Legend may be available for your next special event!
Book John Legend, now!
Frequently Asked Questions About How To Hire JOHN LEGEND for a private party or special event.
HOW TO BOOK JOHN LEGEND?
(i.e., how to hire JOHN LEGEND for an event)
You are currently on the official site of De La Font Agency. For more than 50 years, we have successfully helped official talent buyers around the world secure quality talent.
We welcome the opportunity to be of service to you. Let's do this the right way! Let's save you time and frustration!
Simply click on the "Let's Get Started!" link found on this page. Then, send us your request for booking information.
Include information about your plans for your event and how taking steps to hire JOHN LEGEND (or someone similar) might be of special interest.
If you decide you want to look at other names, simply include your talent-fee budget range and indicate that you want to see who else you might be able to afford with such a budget. We can send you a list of names that are affordable and in the style of music you prefer. We hope to save you time and frustration!
HOW MUCH DOES IT COST TO BOOK/HIRE JOHN LEGEND?
(i.e., what is the booking fee to hire JOHN LEGEND for an event?)
(i.e., what is JOHN LEGEND booking fee to perform at an event?)
Official booking fees for JOHN LEGEND, or any other celebrity, are determined based on a number of factors and may change at anytime without prior notice.
Factors influencing pricing vary and may include date, location, type of event, whether a private party or a public concert, the artist's calendar, whether the artist is on tour or not, how well tickets are selling at the artist's concerts, the current demand for the artist's music, market activity, etc.
As you might expect, the more in-demand the artist is, the more buyers are prepared to pay. Of course, this causes the artist's price to increase as the artist becomes more popular or decrease when becoming less popular.
Exclusive agents with exclusive representation frequently quote a range instead of a specific price, since changes can occur at anytime. Generally, the artist's manager has a role in the decision to accept any particular offer from a talent buyer.
To learn the most current artist's pricing, or the estimated artist's fee for your particular event, simply click on the "Let's Get Started!" link found on this page. Then, send us your request for booking information.
IS JOHN LEGEND AVAILABLE TO WORK MY EVENT?
(i.e., what is JOHN LEGEND's availability?)
To learn the artist's current availability for your special event, simply click on the "Let's Get Started!" link found on this page. Then, send us your request for booking information.
Once we have your event/party information, we will be better able to assist you with putting your entertainment talent booking plans in place as your entertainment consultant. Let's get this done right! We look forward to working with you!
TAGS
Born: ..in Ohio
Born: ..in Springfield
Born:   Dec 28, 1978
Raised: ..in Pennsylvania
Based: ..in US
Based: ..in New York
Based: ..in New York City
Copyright 1997-2022 Richard De La Font Agency, Inc.. Unauthorized copying, reproduction, broadcast, use or sale of any and/or all portions of this web site is strictly prohibited. All rights reserved. Images are for promotional use by Richard De La Font Agency only. Images may not be copied, modified or reused. This company acts as an entertainment consultant or broker/producer and does not claim or represent itself as the exclusive agent, representative or management of the artists listed on this site.