How To Book 
USHER 
For Your Event!

Usher may be available for your next special event!

Hits include:
Lay You Down
Burn
Confessions
Love In This Club
My Boo
Nice And Slow
U Got It Bad
U Remind Me
Yeah!
You Make Me Wanna
Caught Up
My Way
U Don't Have To Call
Can U Get Wit It
Pop Ya Collar
Can U Help Me
Throwback
Moving Mountains
The Many Ways
Dot Com
Call Me A Mack
Bad Habits
Come Thru
Crash
No Limit
I Don't Mind
She Came to Give It to You
Dive
Numb
Lemme See
Scream
Climax
Dirty Dancer

Genre:  R&B
Styles:  Urban, Pop, Contemporary R&B, Hip-Hop Soul, Club/Dance
Years active:  1993-present
How To Hire Usher For A Private Party Or Special Event!
GRAMMY AWARD winning Usher Raymond IV is an American R&B singer.
Usher first surfaced in 1994 with his self-titled debut album and instantly earned the hearts of many fans, young and old, male and female, with his powerful voice, charming smile, adorable baby face and electrifying performances. This album was co-executive-produced by Sean "Puffy" Combs (Bad Boy Entertainment), and yielded one gold top ten hit "Think of You" produced by label mate Donell Jones, which introduced Usher to the world.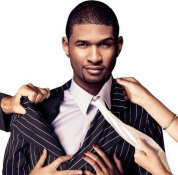 The combination of Usher's matured voice, self-confidence and youthful flavor displays much of Usher's vibrant personality through his music. Usher leaves no question on his superb vocal abilities, providing a variety of ranges and deliveries through great strength.
While graduating from high school and finishing his sophomore album, Usher also made time to polish one of his greatest strengths: his show. "I love the stage, to dance and perform," says un-excited Usher. "The stage is my first love." And it shows. Antonio "L.A." Reid describes Usher as "the ultimate entertainer" and attributes much of that to his "great voice, fashionable looks and superstar presence."  Dubbing him "the king of hip-hop soul," Reid explains, "There hasn't been an artist with this much excitement in many years. Usher makes a serious contribution to urban culture."
That is true – both on and off the stage. Understanding the responsibility of being in the limelight, Usher feels it's very important to portray a positive image to America's youth. He has involved himself in several community activities including serving as the national spokesperson for the U.S. Department of Transportation's "Get Big On Safety" campaign.
Much of Usher's level-headed attitude and responsibility comes from strong family values and a good old-fashioned church upbringing. Raised by his mother, who also manages him, he and his little brother moved to Atlanta from Tennessee when Usher was 12. Usher started singing in the church choir under the direction of – who else but – his mom who was also the choir director. "I've learned that this business is very demanding and stressful, but my mother's been a great teacher. She keeps me grounded." Once in Atlanta Usher started entering local talent shows, where he was spotted by a LaFace Records representative and was asked to audition for L.A. Reid. Soon after that Usher was signed to the label and began recording his debut album.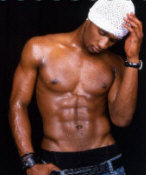 He joined forces with several of the industry's top male artists to form Black Men United to record the gold single "You Will Know," featured on the "Jason's Lyric" soundtrack. His single "Dreaming'" was the first release off LaFace Records' 1996 Olympic Album "Rhythm of the Games" and he did a duet on Arista recording artist's Monica's debut platinum album remaking the hit "Let's Straighten It Out."
"You Make Me Wanna," re-established Usher as one of R&B's hottest artists, and also made him a crossover sensation; it topped the R&B charts for 11 weeks, hit number two pop, and eventually went double platinum. Both of the follow-up singles, "Nice & Slow" and "My Way," also went platinum; the former stayed at number one on the R&B charts for eight weeks and became his first number one pop single.
"This is still just the beginning," says the young star enthusiastically. "I feel like I've accomplished so much already, but I still have my whole life ahead of me and much more to do. I'm learning to play instruments, I want to get into acting, I'm open to do so much."
Hire Usher for your party or event!
Usher may be available for your next special event!
Book Usher , now!
Frequently Asked Questions About How To Hire USHER for a private party or special event.
HOW TO BOOK USHER?
(i.e., how to hire USHER for an event)
You are currently on the official site of De La Font Agency. For more than 50 years, we have successfully helped official talent buyers around the world secure quality talent.
We welcome the opportunity to be of service to you. Let's do this the right way! Let's save you time and frustration!
Simply click on the "Let's Get Started!" link found on this page. Then, send us your request for booking information.
Include information about your plans for your event and how taking steps to hire USHER (or someone similar) might be of special interest.
If you decide you want to look at other names, simply include your talent-fee budget range and indicate that you want to see who else you might be able to afford with such a budget. We can send you a list of names that are affordable and in the style of music you prefer. We hope to save you time and frustration!
HOW MUCH DOES IT COST TO BOOK/HIRE USHER?
(i.e., what is the booking fee to hire USHER for an event?)
(i.e., what is USHER booking fee to perform at an event?)
Official booking fees for USHER, or any other celebrity, are determined based on a number of factors and may change at anytime without prior notice.
Factors influencing pricing vary and may include date, location, type of event, whether a private party or a public concert, the artist's calendar, whether the artist is on tour or not, how well tickets are selling at the artist's concerts, the current demand for the artist's music, market activity, etc.
As you might expect, the more in-demand the artist is, the more buyers are prepared to pay. Of course, this causes the artist's price to increase as the artist becomes more popular or decrease when becoming less popular.
Exclusive agents with exclusive representation frequently quote a range instead of a specific price, since changes can occur at anytime. Generally, the artist's manager has a role in the decision to accept any particular offer from a talent buyer.
To learn the most current artist's pricing, or the estimated artist's fee for your particular event, simply click on the "Let's Get Started!" link found on this page. Then, send us your request for booking information.
IS USHER AVAILABLE TO WORK MY EVENT?
(i.e., what is USHER's availability?)
To learn the artist's current availability for your special event, simply click on the "Let's Get Started!" link found on this page. Then, send us your request for booking information.
Once we have your event/party information, we will be better able to assist you with putting your entertainment talent booking plans in place as your entertainment consultant. Let's get this done right! We look forward to working with you!
TAGS
Born: ..in Tennessee
Born: ..in Chattanooga
Born:   Oct 14, 1978     
Raised: ..in Georgia
Raised: ..in Atlanta
 Based: ..in US
 Based: ..in Georgia 
Copyright 1997-2022 Richard De La Font Agency, Inc.. Unauthorized copying, reproduction, broadcast, use or sale of any and/or all portions of this web site is strictly prohibited. All rights reserved. Images are for promotional use by Richard De La Font Agency only. Images may not be copied, modified or reused. This company acts as an entertainment consultant or broker/producer and does not claim or represent itself as the exclusive agent, representative or management of the artists listed on this site.