How To Book 
Alison Krauss
For Your Event!

Alison Krauss & Union Station may be available for your next special event!
Hits include:
Steel Rails
Down to the River to Pray
Forget About It
Stay
When You Say Nothing At All
Missing You
Baby Mine
I've Got that Old Feeling
Baby Now That I've Found You
Gone, Gone, Gone (Done Moved On)
Please Read the Letter
Can't Let Go

Genre:  Country, Bluegrass
Styles:  Contemporary Bluegrass, Contemporary Country, Neo-Traditionalist Country, Progressive Bluegrass, Traditional Bluegrass, Adult Contemporary, Americana, Fiddler
Years active:  1987-present
A-List:  Country
How To Hire Alison Krauss & Union Station For A Private Party Or Special Event!
GRAMMY AWARD winning Alison Krauss is an American bluegrass-country singer and musician.
As of 2019, she has won 27 Grammy Awards from 42 nominations, ranking her fourth behind Beyoncé, Quincy Jones and classical conductor Georg Solti for most Grammy Award wins overall.
Alison Krauss was the most awarded singer and the most awarded female artist in Grammy history until Beyoncé won her 28th Grammy in 2021. When Krauss won her first Grammy in 1991, she was the second-youngest winner at that time.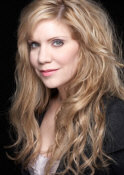 On November 21, 2019, Alison Krauss was awarded the National Medal of Arts. She was inducted into the International Bluegrass Music Hall of Fame in September 2021.
Musicians she enjoys include vocalists Lou Gramm of Foreigner and Paul Rodgers of Bad Company. Krauss' family listened to "folk records" while she was growing up, but she had friends who exposed her to groups such as AC/DC, Carly Simon, the Rolling Stones, Lynyrd Skynyrd, and ELO.
She cites Dolly Parton, with whom she has since collaborated a number of times, as a major influence.
Alison Krauss possesses a soprano voice, which has been described as "angelic".
She has said her musical influences include J.D. Crowe, Ricky Skaggs, and Tony Rice.
Many of her songs are described as sad, and are often about love, especially lost love.
Alison Krauss has won twenty-seven Grammy Awards over the course of her career as a solo artist, as a group with Union Station, as a duet with Robert Plant, and as a record producer. As of 2021, she ranks fourth on the list of winners of the most Grammy Awards.
Hire Alison Krauss for your party or event!
Alison Krauss and Union Station may be available for your next special event!
Book Alison Krauss, now!
Frequently Asked Questions About How To Hire ALISON KRAUSS for a private party or special event.
HOW TO BOOK ALISON KRAUSS?
(i.e., how to hire ALISON KRAUSS for an event)
You are currently on the official site of De La Font Agency. For more than 50 years, we have successfully helped official talent buyers around the world secure quality talent.
We welcome the opportunity to be of service to you. Let's do this the right way! Let's save you time and frustration!
Simply click on the "Let's Get Started!" link found on this page. Then, send us your request for booking information.
Include information about your plans for your event and how taking steps to hire ALISON KRAUSS (or someone similar) might be of special interest.
If you decide you want to look at other names, simply include your talent-fee budget range and indicate that you want to see who else you might be able to afford with such a budget. We can send you a list of names that are affordable and in the style of music you prefer. We hope to save you time and frustration!
HOW MUCH DOES IT COST TO BOOK/HIRE ALISON KRAUSS?
(i.e., what is the booking fee to hire ALISON KRAUSS for an event?)
(i.e., what is ALISON KRAUSS booking fee to perform at an event?)
Official booking fees for ALISON KRAUSS, or any other celebrity, are determined based on a number of factors and may change at anytime without prior notice.
Factors influencing pricing vary and may include date, location, type of event, whether a private party or a public concert, the artist's calendar, whether the artist is on tour or not, how well tickets are selling at the artist's concerts, the current demand for the artist's music, market activity, etc.
As you might expect, the more in-demand the artist is, the more buyers are prepared to pay. Of course, this causes the artist's price to increase as the artist becomes more popular or decrease when becoming less popular.
Exclusive agents with exclusive representation frequently quote a range instead of a specific price, since changes can occur at anytime. Generally, the artist's manager has a role in the decision to accept any particular offer from a talent buyer.
To learn the most current artist's pricing, or the estimated artist's fee for your particular event, simply click on the "Let's Get Started!" link found on this page. Then, send us your request for booking information.
IS ALISON KRAUSS AVAILABLE TO WORK MY EVENT?
(i.e., what is ALISON KRAUSS's availability?)
To learn the artist's current availability for your special event, simply click on the "Let's Get Started!" link found on this page. Then, send us your request for booking information.
Once we have your event/party information, we will be better able to assist you with putting your entertainment talent booking plans in place as your entertainment consultant. Let's get this done right! We look forward to working with you!
Copyright 1997-2022 Richard De La Font Agency, Inc.. Unauthorized copying, reproduction, broadcast, use or sale of any and/or all portions of this web site is strictly prohibited. All rights reserved. Images are for promotional use by Richard De La Font Agency only. Images may not be copied, modified or reused. This company acts as an entertainment consultant or broker/producer and does not claim or represent itself as the exclusive agent, representative or management of the artists listed on this site.