How To Book 
SARA EVANS 
For Your Event!

Sara Evans may be available for your next special event!

Hits include:
Born to Fly
No Place That Far
Suds in the Bucket
A Real Fine Place To Start
I Could Not Ask For More
Perfect
I Keep Looking
Cheatin'
As If
You'll Always Be My Baby
Backseat of a Greyhound Bus
Saints & Angels
Fool, I'm a Woman
Some Things Never Change
Coalmine
A Little Bit Stronger
My Heart Can't Tell You No
Anywhere
True Lies
Three Chords and The Truth
Shame About That
Cryin' Game
Tonight
Low
Feels Just Like a Love Song
Slow Me Down
Put My Heart Down

Genre:  Country
Styles:  Country-Rock, Alt-Country, Country-Folk, Country-Pop, Contemporary Country, Pop, Contemporary Singer/Songwriter, Neo-Traditionalist, Progressive Country
Years active:  1997-present
A-List:  Country
How To Hire SARA EVANS For A Private Party or Special Event!
Sara Lynn Evans is an American country music singer and songwriter. She is also credited as a record producer, actress and author.
She had five songs reach the number one spot on the Billboard country songs chart and has sold over six million albums. Nine additional singles have reached the top ten of the Billboard country chart, including "I Could Not Ask for More", "I Keep Looking" and "Cheatin'". Among her top 20 charting singles are "Saints & Angels", "Backseat of a Greyhound Bus" and "As If". She has won accolades from the Academy of Country Music and the Country Music Association. She has also been nominated for several more accolades from both associations, including Female Vocalist of the Year and Single of the Year.
The career of Sara Evans goes back further than most country fans realize. Raised on a farm in Missouri, she was singing every weekend in her family's band at age 5. She was already a recording veteran at age 11. Believing that singing was to be her life's work, she arrived in Nashville in the summer of 1991. She met musician Craig Schelske, with whom she migrated to Oregon a year later. They formed both a professional and personal partnership there, marrying in 1993. After three years of performing together, they returned to Music City in the fall of 1995.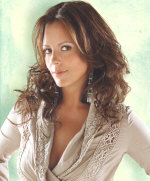 Country Music Hall of Fame songwriter Harlan Howard and his wife Melanie were quick to see the seasoned performer's potential. After Sara Evans recorded a new version of Harlan's classic "I've Got a Tiger By the Tail," he urged RCA to listen. Sadly, Harlan Howard died March 3, 2002, just as she was becoming the big star he'd always believed she would be.
"That tugged at my heart," she says softly. "He was really the reason I got my record deal. He really did call RCA and say, 'You've got to meet with this girl.' I really don't know that I would be here if it weren't for him and Melanie."
Even so, she had a steep hill to climb before the awards and parties came her way. The distinctive Sara Evans sound was awhile in coming.
"All I'd ever done my whole life was sing hardcore country and bluegrass. I knew that I wanted to be a singer, and that was my life's destiny. But I really didn't have a handle on who I was. When I did 'Tiger By the Tail,' everybody in the studio just freaked out about how 'country' I was. So I just went with that, thinking, 'Obviously, this is my niche.'"
When she released "Three Chords and the Truth" as her debut CD in 1997, it wound up on many critics' "best of" lists for the year. But radio stations didn't embrace her back-to-basics country sound. She solved that problem with 1998's Gold-selling "No Place That Far." Its title tune became her first No. 1 record. Then came "Born To Fly."

"I thought, 'This is my make-it-or-break-it record. I have GOT to recruit somebody to help me home in on who I am as an artist. Because I know I can write songs; I know I can sing; I know I can perform.' That's when I called Paul Worley. And he totally understood."
"And then, thank God, we got a call from Marcus Hummon. He said, 'I'd really like to write with Sara because "Three Chords and the Truth" is one of my favorite songs, and I really think we could write well together.' I'd never met him. He and Darrell Scott drove out to my house, and we just started talking about my life and where I was from. Marcus started playing this little tune. And that's how 'Born To Fly' came to be."
"Once 'Born to Fly' was written, I had such inspiration. I wrote 'I Keep Looking' after that. And that's when I realized that something great was unfolding."
"Born To Fly" shot to No. 1 as 2000 drew to a close. The album's ballad "I Could Not Ask for More" followed it to the top in the spring of 2001. Then "Saints and Angels" emerged as the collection's third hit. In 2002, the album yielded "I Keep Looking" as her fourth consecutive smash.
Sara Evans was the most nominated artist at the 2001 Country Music Association Awards, and took home her first such trophy when "Born to Fly" won Video of the Year. She toured with superstars Alan Jackson, George Strait and Kenny Chesney. In addition, she participated in the landmark "Girls Night Out" tour of 2001 with Reba McEntire, Martina McBride, Carolyn Dawn Johnson and Jamie O'Neal.
"That was the most fun time of my life. Every night we would come out and do this big encore with Reba. And when we were off stage, all we did was gossip and talk about clothes. It was a blast. It was during that tour that they presented me with the Platinum Record Award for 'Born to Fly.' It was just so unbelievable to me that I cried."
"I want to be successful, but I also love being a mom. I believe I was born to sing AND have a family. I really have the best of both worlds."
Hire Sara Evans for your party or event!
Sara Evans may be available for your next special event!
Book Sara Evans, now!
Frequently Asked Questions About How To Hire SARA EVANS for a private party or special event.
HOW TO BOOK SARA EVANS?
(i.e., how to hire SARA EVANS for an event)
You are currently on the official site of De La Font Agency. For more than 50 years, we have successfully helped official talent buyers around the world secure quality talent.
We welcome the opportunity to be of service to you. Let's do this the right way! Let's save you time and frustration!
Simply click on the "Let's Get Started!" link found on this page. Then, send us your request for booking information.
Include information about your plans for your event and how taking steps to hire SARA EVANS (or someone similar) might be of special interest.
If you decide you want to look at other names, simply include your talent-fee budget range and indicate that you want to see who else you might be able to afford with such a budget. We can send you a list of names that are affordable and in the style of music you prefer. We hope to save you time and frustration!
HOW MUCH DOES IT COST TO BOOK/HIRE SARA EVANS?
(i.e., what is the booking fee to hire SARA EVANS for an event?)
(i.e., what is SARA EVANS booking fee to perform at an event?)
Official booking fees for SARA EVANS, or any other celebrity, are determined based on a number of factors and may change at anytime without prior notice.
Factors influencing pricing vary and may include date, location, type of event, whether a private party or a public concert, the artist's calendar, whether the artist is on tour or not, how well tickets are selling at the artist's concerts, the current demand for the artist's music, market activity, etc.
As you might expect, the more in-demand the artist is, the more buyers are prepared to pay. Of course, this causes the artist's price to increase as the artist becomes more popular or decrease when becoming less popular.
Exclusive agents with exclusive representation frequently quote a range instead of a specific price, since changes can occur at anytime. Generally, the artist's manager has a role in the decision to accept any particular offer from a talent buyer.
To learn the most current artist's pricing, or the estimated artist's fee for your particular event, simply click on the "Let's Get Started!" link found on this page. Then, send us your request for booking information.
IS SARA EVANS AVAILABLE TO WORK MY EVENT?
(i.e., what is SARA EVANS's availability?)
To learn the artist's current availability for your special event, simply click on the "Let's Get Started!" link found on this page. Then, send us your request for booking information.
Once we have your event/party information, we will be better able to assist you with putting your entertainment talent booking plans in place as your entertainment consultant. Let's get this done right! We look forward to working with you!
TAGS
Genre: Country
  Styles: 
   .Country-Rock. / CountryRock
   .Alt-Country. / AltCountry
   .Country-Pop. / CountryPop
   .Contemporary Country. / ContemporaryCountry
   .Pop. / xPop
   .Country-Folk. / CountryFolk
   .Contemporary Singer/Songwriter. / ContemporarySingerSongwriter
   .Neo-Traditionalist Country / NeoTraditionalistCountry
   .Progressive Country. / ProgressiveCountry
Years active: 
   x90s, x00s, x10s, x20s
   1997-present
Born: ..in Missouri / born nMissouri
Born: ..in Boonville / born BoonvilleMO
Born:   Feb 5, 1971
Raised: ..in Missouri
Raised: ..in Boonesboro / BoonesboroMO
Raised: ..in New Franklin area / NewFranklinMO
Based: ..in US
Copyright 1997-2022 Richard De La Font Agency, Inc.. Unauthorized copying, reproduction, broadcast, use or sale of any and/or all portions of this web site is strictly prohibited. All rights reserved. Images are for promotional use by Richard De La Font Agency only. Images may not be copied, modified or reused. This company acts as an entertainment consultant or broker/producer and does not claim or represent itself as the exclusive agent, representative or management of the artists listed on this site.