Genre:  Pop/Soft Rock, Alternative/Indie
Styles:  Contemporary Singer/Songwriter, Adult Alternative Pop/Rock, Alternative/Indie Rock, Pop, Baroque Pop, Piano Rock, Acoustic Guitar
Years active:  1998-present
How To Hire Sara Bareilles For A Private Party Or Special Event!
GRAMMY AWARD winning Sara Bareilles is an American singer-songwriter, actress, author, and producer.
Bareilles composed music and wrote lyrics for the 2015 Broadway musical, Waitress, for which she earned a Tony Award nomination for Best Original Score and a Grammy Award nomination for Best Musical Theatre Album.
Sara Bareilles has sold more than one million albums and more than nine million singles in the United States. She has earned nominations for eight Grammy Awards, with one win, three Primetime Emmy Awards, and two Tony Awards.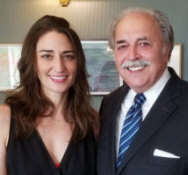 Sara Bareilles with
Richard De La Font
in Barcelona, Spain
In February 2012, VH1 placed Sara Bareilles in the 80th spot of the Top 100 Greatest Women in Music.
She is known for her strong mezzo-soprano vocal range and is often compared to artists such as Regina Spektor, Fiona Apple and Billy Joel, due to her vocal ability and incorporation of piano into her music.
Sara Bareilles has described her sound as "piano-based pop soul", with her finding inspiration from singers such as Etta James and Sam Cooke.
In an interview for The Huffington Post, Bareilles explained that writing and releasing one of her earliest singles, "Love Song", posed as a defining moment for her music career, since she was "fighting for the essence of some truth inside [of her], which to [her was] a beautiful love song."
Sara Bareilles is often praised for her songwriting abilities, with critics stating she "conveys vulnerability and wisdom in lyrics that speak honestly about relationships from a woman's point of view", and that her "writing voice is uniquely her own".
Hire Sara Bareilles for your party or event!
Sara Bareilles may be available for your next special event!
Book Sara Bareilles, now!
Frequently Asked Questions About How To Hire SARA BAREILLES for a private party or special event.
HOW TO BOOK SARA BAREILLES?
(i.e., how to hire SARA BAREILLES for an event)
You are currently on the official site of De La Font Agency. For more than 50 years, we have successfully helped official talent buyers around the world secure quality talent.
We welcome the opportunity to be of service to you. Let's do this the right way! Let's save you time and frustration!
Simply click on the "Let's Get Started!" link found on this page. Then, send us your request for booking information.
Include information about your plans for your event and how taking steps to hire SARA BAREILLES (or someone similar) might be of special interest.
If you decide you want to look at other names, simply include your talent-fee budget range and indicate that you want to see who else you might be able to afford with such a budget. We can send you a list of names that are affordable and in the style of music you prefer. We hope to save you time and frustration!
HOW MUCH DOES IT COST TO BOOK/HIRE SARA BAREILLES?
(i.e., what is the booking fee to hire SARA BAREILLES for an event?)
(i.e., what is SARA BAREILLES booking fee to perform at an event?)
Official booking fees for SARA BAREILLES, or any other celebrity, are determined based on a number of factors and may change at anytime without prior notice.
Factors influencing pricing vary and may include date, location, type of event, whether a private party or a public concert, the artist's calendar, whether the artist is on tour or not, how well tickets are selling at the artist's concerts, the current demand for the artist's music, market activity, etc.
As you might expect, the more in-demand the artist is, the more buyers are prepared to pay. Of course, this causes the artist's price to increase as the artist becomes more popular or decrease when becoming less popular.
Exclusive agents with exclusive representation frequently quote a range instead of a specific price, since changes can occur at anytime. Generally, the artist's manager has a role in the decision to accept any particular offer from a talent buyer.
To learn the most current artist's pricing, or the estimated artist's fee for your particular event, simply click on the "Let's Get Started!" link found on this page. Then, send us your request for booking information.
IS SARA BAREILLES AVAILABLE TO WORK MY EVENT?
(i.e., what is SARA BAREILLES's availability?)
To learn the artist's current availability for your special event, simply click on the "Let's Get Started!" link found on this page. Then, send us your request for booking information.
Once we have your event/party information, we will be better able to assist you with putting your entertainment talent booking plans in place as your entertainment consultant. Let's get this done right! We look forward to working with you!
TAGS
Born: ..in California
Born: ..in Eureka
Born:   Dec 7, 1979
Based: ..in US
Based: ..in California
Based: ..in Los Angeles
Copyright 1997-2022 Richard De La Font Agency, Inc.. Unauthorized copying, reproduction, broadcast, use or sale of any and/or all portions of this web site is strictly prohibited. All rights reserved. Images are for promotional use by Richard De La Font Agency only. Images may not be copied, modified or reused. This company acts as an entertainment consultant or broker/producer and does not claim or represent itself as the exclusive agent, representative or management of the artists listed on this site.