How To Book 
MARTY STUART 
For Your Event!

Marty Stuart may be available for your next special event!

Hits include:
Tempted
Burn Me Down
This One's Gonna Hurt You (For a Long, Long Time)
Hillbilly Rock
Little Things
Till I Found You
Now That's Country
Arlene
Western Girls
Honky Tonkin's What I Do Best
High On a Mountain Top
Kiss Me, I'm Gone
You Can't Stop Love
Cry Cry Cry
Hey Baby
Love and Luck
That's What Love's About
The Likes of Me
If I Ain't Got You
Thanks to You
Red, Red Wine and Cheatin' Songs
If There Ain't, There Oughta Be
Too Much Month (At the End of Money)
Even Santa Claus Gets the Blues

Genre:  Country, Bluegrass
Styles:  Country-Rock, Traditional Bluegrass, Contemporary Country, New Traditionalist, Dobro
Years active:  1968-present
How To Hire Marty Stuart For A Private Party or Event!
GRAMMY AWARD winning John Marty Stuart is an American country and bluegrass music singer, songwriter, and musician.
Marty Stuart. Singer. Songwriter. Poet. Theatrical composer. Musician. Photographer. Collector. Actor. Producer. Historian. Raconteur. Executive. Entertainer. Nashville's International Ambassador of Tourism. Author. Bluegrass aficionado. Commercial pitchman. TV host. Comic book hero.
With an ever increasing list of accomplishments and achievements, the high-spirited Mississippi native defies categorization. Even Marty himself can't pinpoint his "role" – and that's the way he likes it.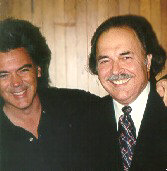 Marty Stuart with
Richard De La Font
"I really don't know where I fit in the music business," he says. "I just love to work. There are so many things I enjoy doing…The bottom line for me is to make good music and be the best that I can. I don't worry about where my place is. Actually, for most of my life I've not fit in and that's fine by me."
Everything about Marty Stuart – from the hand-tailored stage-wear to his ever-present mandolin – is instinctive, drawn from his vast palette of experiences. "I've always been influenced by what I was into at the moment," he says. "I've always enjoyed artists, whether they are artists who paint or artists who make music. I love people who are open and people who are evolving at all times."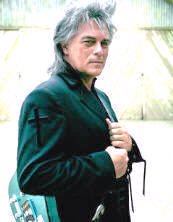 Marty hasn't assembled what could be the largest collection of country music memorabilia in the world because it's trendy. He's done it because he has a genuine interest in preserving the rich heritage of the music he loves so much. He isn't the president of the Country Music Foundation because it looks good on a resume. He does it because he wants to help further the Foundation's role in ensuring that generations to come have a Hall of Fame to visit.
And just when you think Marty's plate is surely overflowing, you recall that he's still entertaining country fans at concerts nationwide. His high-energy shows are fun-filled romps that make audiences laugh, clap their hands, stomp their feet, sing along and beg for more.
In an age of specialization, Marty Stuart continues to "specialize" in diversity. If there's anyone today who can rival Marty for the title "Country Music's Renaissance Man," they've yet to make their presence known.
Hire Marty Stuart for your event!
Marty Stuart may be available for your next special event!
Book Marty Stuart, now!
Frequently Asked Questions About How To Hire MARTY STUART for a private party or special event.
HOW TO BOOK MARTY STUART?
(i.e., how to hire MARTY STUART for an event)
You are currently on the official site of De La Font Agency. For more than 50 years, we have successfully helped official talent buyers around the world secure quality talent.
We welcome the opportunity to be of service to you. Let's do this the right way! Let's save you time and frustration!
Simply click on the "Let's Get Started!" link found on this page. Then, send us your request for booking information.
Include information about your plans for your event and how taking steps to hire MARTY STUART (or someone similar) might be of special interest.
If you decide you want to look at other names, simply include your talent-fee budget range and indicate that you want to see who else you might be able to afford with such a budget. We can send you a list of names that are affordable and in the style of music you prefer. We hope to save you time and frustration!
HOW MUCH DOES IT COST TO BOOK/HIRE MARTY STUART?
(i.e., what is the booking fee to hire MARTY STUART for an event?)
(i.e., what is MARTY STUART booking fee to perform at an event?)
Official booking fees for MARTY STUART, or any other celebrity, are determined based on a number of factors and may change at anytime without prior notice.
Factors influencing pricing vary and may include date, location, type of event, whether a private party or a public concert, the artist's calendar, whether the artist is on tour or not, how well tickets are selling at the artist's concerts, the current demand for the artist's music, market activity, etc.
As you might expect, the more in-demand the artist is, the more buyers are prepared to pay. Of course, this causes the artist's price to increase as the artist becomes more popular or decrease when becoming less popular.
Exclusive agents with exclusive representation frequently quote a range instead of a specific price, since changes can occur at anytime. Generally, the artist's manager has a role in the decision to accept any particular offer from a talent buyer.
To learn the most current artist's pricing, or the estimated artist's fee for your particular event, simply click on the "Let's Get Started!" link found on this page. Then, send us your request for booking information.
IS MARTY STUART AVAILABLE TO WORK MY EVENT?
(i.e., what is MARTY STUART's availability?)
To learn the artist's current availability for your special event, simply click on the "Let's Get Started!" link found on this page. Then, send us your request for booking information.
Once we have your event/party information, we will be better able to assist you with putting your entertainment talent booking plans in place as your entertainment consultant. Let's get this done right! We look forward to working with you!
TAGS
Born: ..in Mississippi
Born: ..in Philadelphia
Born:   Sep 30, 1958
Based: ..in US
Based: ..in Tennessee
Based: ..in Nashville
Copyright 1997-2022 Richard De La Font Agency, Inc.. Unauthorized copying, reproduction, broadcast, use or sale of any and/or all portions of this web site is strictly prohibited. All rights reserved. Images are for promotional use by Richard De La Font Agency only. Images may not be copied, modified or reused. This company acts as an entertainment consultant or broker/producer and does not claim or represent itself as the exclusive agent, representative or management of the artists listed on this site.