How To Book 
LEANN RIMES 
For Your Event!

LeAnn Rimes may be available for your next special event!

Hits include:
How Do I Live
One Way Ticket (Because I Can)
I Need You
Something's Gotta Give
Can't Fight the Moonlight
Probably Wouldn't Be This Way
Rockin' Around The Christmas Tree
Unchained Melody
Commitment
Looking Through Your Eyes
On the Side of Angels
Nothing 'Bout Love Makes Sense
The Light in Your Eyes
Big Deal
Life Goes On
And It Feels Like
Nothin' Better To Do
Some People
Good Friend And A Glass Of Wine
Swingin'
Give
Crazy Women

Genre:  Country, Pop/Rock
Styles:  Adult Contemporary, Contemporary Country, Pop, Contemporary Pop/Rock
Years active:  1990-present
A-List:  Country
How To Hire LEANN RIMES For A Private Party or Special Event!
GRAMMY AWARD winning Margaret LeAnn Rimes Cibrian is an American singer, songwriter and actress. She originally rose to success as a country music artist at age 13 with 1996's "Blue". She has since crossed over into pop, contemporary Christian, and other musical genres.
Rimes has placed over 40 singles on international charts since 1996. In addition, she has sold more than 37 million records worldwide, with 20.8 million album sales in the United States according to Nielsen SoundScan. BILLBOARD ranked her number 17 in terms of sales success in the 1990–2000 decade.
How many persons by the age of 18 can boast that they have won two GRAMMYS, three Academy of Country Music Awards, a CMA "Horizon Award," four Billboard Music Awards, a prestigious BBC "Rising Star" award, have authored a book, starred on syndicated television and in a blockbuster movie, sold more than 20 million records and have even performed for the Pope? Only LeAnn Rimes.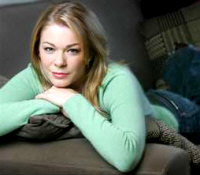 She was born in Jackson, Mississippi, and before she was two, she was belting out songs like "You Are My Sunshine" and "Getting To Know You." By age five, she told her parents that she wanted to pursue a life in show business – and pursue she did.
By age seven, LeAnn made her stage debut in a Dallas musical production of "A Christmas Carol" and soon after the preteen powerhouse was singing "The Star Spangled Banner" at Dallas Cowboy games and opening for Randy Travis. By age 11, LeAnn recorded her first album, "All That," which was released on a small, independent label. The fateful LP featured an early version of what would become her signature song, "Blue." Though the album was only available in local Dallas stores, the record created enough music industry buzz to attract the attention of Curb Records president, Mike Curb. In 1996, LeAnn Rimes recorded and released her remarkable major label debut album, "Blue."
In the following year, she released "You Light Up My Life – Inspirational Songs," which debuted simultaneously on three Billboard Magazine charts (Pop, Country and Contemporary Christian) a feat never before achieved by a Country artist. In early 1997 she subsequently released, "The Early Years: Unchained Melody" a compilation of her compelling early work. 1997 also garnered another massive hit for the young superstar with the release of "How Do I Live" which set a record by remaining #1 on Billboard Magazine's Hot 100 chart for 69 weeks. 1997 would also welcome LeAnn's first foray into acting. She starred in the ABC-TV movie, "Holiday In Your Heart" – which aired to public and critical acclaim. The movie was based on a book of the same title, which LeAnn co-authored with Tom Carter.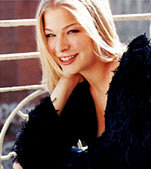 1997 was a year that was marked with more than stratospheric record sales and exciting new creative ventures for the young, rising star. It was punctuated with numerous prestigious awards including an American Music Award, two GRAMMYS – including Best New Artist (marking the first time a Country artist ever captured that honor), three Academy of Country Music Awards, a TNN Music City News Award, a CMA Horizon Award, four Billboard Music Awards and the prestigious international honor of the BBC's Rising Star award.
The following year, LeAnn Rimes recorded and released "Sittin' On Top Of The World," which featured the hit single "Commitment," as well as "Looking Through Your Eyes" from the animated motion picture, "Quest for Camelot."
In 1999, LeAnn released a self-titled CD, "LeAnn Rimes," which featured her unique interpretations of 11 Country standards including; "Crazy," "I Fall to Pieces," "Leavin' On Your Mind," "Don't Worry" and "Me & Bobby McGee" along with six additional classics and the smash hit single, "Big Deal."
Another highlight of 1999 for Leann was performing "Written in the Stars," a duet with Elton John from his Aida album, on the People's Choice Awards, The Tonight Show, Late Night with David Letterman and the Today Show. She also served as Good Morning America's celebrity host for the American Music Awards in January. In addition, she appeared on ABC-TV's "Hot 21" special, a television version of Teen People's article on the same subject. Her television appearances continued with the Today Show's concert series, MTV's "FANatic," VH1's "All Access" and VH1's "Divas Live."
In November of 1999, she traveled to Europe to present a special Thanksgiving Day concert for the Pope. The Pope bestowed an official blessing upon her in recognition of her "God-given talent."
After taking a much-needed break from her strenuous recording, performing, touring and acting schedule – LeAnn finally took a short break in early 2000. However, she couldn't stay under the radar for too long. Emerging like a fabulous butterfly from a cocoon LeAnn Rimes emerged in early 2000 as a "new" LeAnn. Appearing on The Tonight Show to perform "I Need You," which she recorded for the soundtrack for the television miniseries "Jesus," LeAnn stunned the nation with her dramatic transformation.
Rested, reinvigorated and fit from a new workout regime, LeAnn Rimes was clearly no longer the little girl from Garland with the big voice. She was a sleek, cosmopolitan young lady with an incredible gift for performing and one of the most spectacular voices in the business. Off and running into the new millennium, LeAnn served as host for TNN's "Class of 2000," made her major motion picture acting debut in "Coyote Ugly" (Touchstone Pictures / Jerry Bruckheimer Films). Not only does LeAnn appear in a surprise cameo in the film, but she also recorded four Diane Warren songs (including the infectious first single, "Can't Fight the Moonlight") for the movie soundtrack released on Curb Records.
Her songs and albums have surpassed the multi-platinum mark with a deftness that is usually reserved for seasoned veterans and her voice has a youthful maturity to it that lends a beauteous tone and melody to her work.
Hire LeAnn Rimes for your party or event!
LeAnn Rimes may be available for your next special event!
Book LeAnn Rimes, now!
Frequently Asked Questions About How To Hire LeANN RIMES for a private party or special event.
HOW TO BOOK LeANN RIMES?
(i.e., how to hire LeANN RIMES for an event)
You are currently on the official site of De La Font Agency. For more than 50 years, we have successfully helped official talent buyers around the world secure quality talent.
We welcome the opportunity to be of service to you. Let's do this the right way! Let's save you time and frustration!
Simply click on the "Let's Get Started!" link found on this page. Then, send us your request for booking information.
Include information about your plans for your event and how taking steps to hire LeANN RIMES (or someone similar) might be of special interest.
If you decide you want to look at other names, simply include your talent-fee budget range and indicate that you want to see who else you might be able to afford with such a budget. We can send you a list of names that are affordable and in the style of music you prefer. We hope to save you time and frustration!
HOW MUCH DOES IT COST TO BOOK/HIRE LeANN RIMES?
(i.e., what is the booking fee to hire LeANN RIMES for an event?)
(i.e., what is LeANN RIMES booking fee to perform at an event?)
Official booking fees for LeANN RIMES, or any other celebrity, are determined based on a number of factors and may change at anytime without prior notice.
Factors influencing pricing vary and may include date, location, type of event, whether a private party or a public concert, the artist's calendar, whether the artist is on tour or not, how well tickets are selling at the artist's concerts, the current demand for the artist's music, market activity, etc.
As you might expect, the more in-demand the artist is, the more buyers are prepared to pay. Of course, this causes the artist's price to increase as the artist becomes more popular or decrease when becoming less popular.
Exclusive agents with exclusive representation frequently quote a range instead of a specific price, since changes can occur at anytime. Generally, the artist's manager has a role in the decision to accept any particular offer from a talent buyer.
To learn the most current artist's pricing, or the estimated artist's fee for your particular event, simply click on the "Let's Get Started!" link found on this page. Then, send us your request for booking information.
IS LeANN RIMES AVAILABLE TO WORK MY EVENT?
(i.e., what is LeANN RIMES's availability?)
To learn the artist's current availability for your special event, simply click on the "Let's Get Started!" link found on this page. Then, send us your request for booking information.
Once we have your event/party information, we will be better able to assist you with putting your entertainment talent booking plans in place as your entertainment consultant. Let's get this done right! We look forward to working with you!
TAGS
Genre: Country
Genre: Rock 1
  Styles: 
   .Adult Contemporary. / AdultContemporary
   .Contemporary Country. / ContemporaryCountry
   .Teen Pop. / TeenPop
   .Contemporary Pop/Rock. / ContemporaryPopRock
Years active:
   x90s, x00s, x10s, x20s
   1990-present
Born: ..in Mississippi / born nMississippi
Born: ..in Jackson / born JacksonMS
Born:   Aug 28, 1982
Raised: ..in Texas / nTexas
Raised: ..in Garland / GarlandTX
Based: ..in US
Copyright 1997-2022 Richard De La Font Agency, Inc.. Unauthorized copying, reproduction, broadcast, use or sale of any and/or all portions of this web site is strictly prohibited. All rights reserved. Images are for promotional use by Richard De La Font Agency only. Images may not be copied, modified or reused. This company acts as an entertainment consultant or broker/producer and does not claim or represent itself as the exclusive agent, representative or management of the artists listed on this site.