How To Book 
JOHN ANDERSON 
For Your Event!

John Anderson may be available for your next special event!

Hits include:
Black Sheep
Money in the Bank
Straight Tequila Night
Swingin'
Wild And Blue
Seminole Wind
Bend It Until It Breaks
I've Got It Made
She Sure Got Away With My Heart
When It Comes To You
I Wish I Could Have Been There
I'm Just An Old Chunk of Coal (But I'm Gonna Be A Diamond Someday)
Would You Catch A Falling Star
1959
I Just Came Home To Count The Memories
Let Go of the Stone
Chicken Truck
Honky Tonk Crowd
Let Somebody Else Drive
Down In Tennessee
If Her Lovin' Don't Kill Me
Nobody's Got It All
You Ain't Hurt Nothing Yet
Takin' the Country Back
Somebody Slap Me
Long Hard Lesson Learned
Paradise
Mississippi Moon
Country 'Til I Die

Genre:  Country
Styles:  Outlaw Country, Contemporary Country, Honky Tonk, New Traditionalist, Traditional Country, Acoustic Guitar
Years active:  1990-present
How To Hire John Anderson For A Private Party Or Special Event!
John Anderson is an American country music singer and songwriter with a successful career that has lasted more than 40 years.
He is a rare artist who can consistently surprise and delight us without severing his musical roots or resorting to gimmicks.
Acknowledged as country music's "first New Traditionalist," John Anderson also numbers many rock stars among his admirers.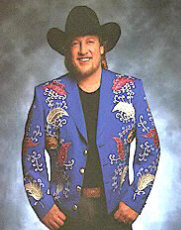 Hire John Anderson for your festival or concert plans.
Most country performers sing about the rural life, but Anderson deliberately and passionately lives it. "When I decided to move out to Smithville (Tennessee)," John says, "one of the main reasons was to get somewhere that I thought was conducive to good country music. It was for the creativity. I moved there as a songwriter. I thought that just being in the country and living a country life might be a way to come up with some good, honest country music."
He creates music for every man – yet he sings like no other man.
"I probably will be country 'til I die, the way it's looking," he says with a chuckle. Then he adds, pointedly, "It's cool to be country these days, but it's been pretty cool and hip for me for all these years. I was very fortunate to get an early start."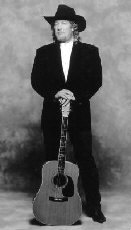 Hire John Anderson for your very special event or occasion.
Early indeed. The Florida native first came to Nashville at 17. Within a few years, he and artists like Emmylou Harris were re-establishing the primacy of pure country music and paving the way for the New Traditionalists movement of the early 80's.
After winning the Country Music Association's prestigious "Horizon" award in 1983, Anderson stayed true to his roots through several lean years before seeing his faith rewarded with one of the most stunning career turn-arounds in country music history – the huge success of "Seminole Wind" and "Solid Ground," capped by the 1994 ACM Career Achievement award.
John Anderson's success in recent years has enabled him to focus to an even greater extent than before on the crucial process of writing and selecting songs for new albums.
"We've gained a lot of new and young fans the last couple years, people who maybe weren't around or weren't into country back in '83," he says. That, of course, is when "Swingin'" hit No. 1, on its way to becoming the No. 30 jukebox hit of all time, according to the Amusement and Music Operators Association (AMOA). (The Beatles' "Hey Jude" is No. 31).
Hire John Anderson for your party or event!
John Anderson may be available for your next special event!
Book John Anderson, now!
Frequently Asked Questions About How To Hire JOHN ANDERSON for a private party or special event.
HOW TO BOOK JOHN ANDERSON?
(i.e., how to hire JOHN ANDERSON for an event)
You are currently on the official site of De La Font Agency. For more than 50 years, we have successfully helped official talent buyers around the world secure quality talent.
We welcome the opportunity to be of service to you. Let's do this the right way! Let's save you time and frustration!
Simply click on the "Let's Get Started!" link found on this page. Then, send us your request for booking information.
Include information about your plans for your event and how taking steps to hire JOHN ANDERSON (or someone similar) might be of special interest.
If you decide you want to look at other names, simply include your talent-fee budget range and indicate that you want to see who else you might be able to afford with such a budget. We can send you a list of names that are affordable and in the style of music you prefer. We hope to save you time and frustration!
HOW MUCH DOES IT COST TO BOOK/HIRE JOHN ANDERSON?
(i.e., what is the booking fee to hire JOHN ANDERSON for an event?)
(i.e., what is JOHN ANDERSON booking fee to perform at an event?)
Official booking fees for JOHN ANDERSON, or any other celebrity, are determined based on a number of factors and may change at anytime without prior notice.
Factors influencing pricing vary and may include date, location, type of event, whether a private party or a public concert, the artist's calendar, whether the artist is on tour or not, how well tickets are selling at the artist's concerts, the current demand for the artist's music, market activity, etc.
As you might expect, the more in-demand the artist is, the more buyers are prepared to pay. Of course, this causes the artist's price to increase as the artist becomes more popular or decrease when becoming less popular.
Exclusive agents with exclusive representation frequently quote a range instead of a specific price, since changes can occur at anytime. Generally, the artist's manager has a role in the decision to accept any particular offer from a talent buyer.
To learn the most current artist's pricing, or the estimated artist's fee for your particular event, simply click on the "Let's Get Started!" link found on this page. Then, send us your request for booking information.
IS JOHN ANDERSON AVAILABLE TO WORK MY EVENT?
(i.e., what is JOHN ANDERSON's availability?)
To learn the artist's current availability for your special event, simply click on the "Let's Get Started!" link found on this page. Then, send us your request for booking information.
Once we have your event/party information, we will be better able to assist you with putting your entertainment talent booking plans in place as your entertainment consultant. Let's get this done right! We look forward to working with you!
This is the month of May update of this page. John Anderson booking agent available. John Anderson cost, John Anderson booking fee and John Anderson booking price are available.
TAGS
Born: ..in Florida
Born: ..in Apopka
Born:   Dec 12, 1955
Based: ..in US
Based: ..in Tennessee
Based: ..in Smithville
Copyright 1997-2023 Richard De La Font Agency, Inc.. Unauthorized copying, reproduction, broadcast, use or sale of any and/or all portions of this web site is strictly prohibited. All rights reserved. Images are for promotional use by Richard De La Font Agency only. Images may not be copied, modified or reused. This company acts as an entertainment consultant or broker/producer and does not claim or represent itself as the exclusive agent, representative or management of the artists listed on this site.