How To Book 
GEORGE STRAIT 
For Your Event!

George Strait may be available for your next special event!

Hits include:
Ace In The Hole
All My Ex's Live In Texas
Baby's Gotten Good At Goodbye
Carrying Your Love With Me
Does Fort Worth Ever Cross Your Mind
Famous Last Words Of A Fool
Carried Away
Give It Away
Easy Come, Easy Go
Baby Blue
Check Yes Or No
Am I Blue
Blue Clear Sky
I Gotta Get To You
The Breath You Take
Here For a Good Time
Love's Gonna Make It Alright
Drinkin' Man
Give It All We Got Tonight
I Believe
I Got a Car
Let It Go
Cold Beer Conversation
Every Little Honky Tonk Bar
The Weight of the Badge
Genre:  Country
Styles:  Texas Country, Contemporary Country, New Traditionalist, Western Swing Revival
Years active:  1976-present
A-List:  Country
aka:  George Harvey Strait Sr.
How To Hire GEORGE STRAIT For A Special Event!
GRAMMY AWARD winning George Harvey Strait Sr., known professionally as George Strait, is an American country music singer, songwriter, actor, and music producer.
Strait's success began when his first single "Unwound" was a hit in 1981, signaling the arrival of the neotraditional movement. During the 1980s, seven of his albums reached number one on the country charts. In the 2000s, Strait was named Artist of the Decade by the Academy of Country Music, elected into the Country Music Hall of Fame, and won his first Grammy award for the album Troubadour. Strait was named CMA Entertainer of the Year in 1989, 1990 and 2013, and ACM Entertainer of the Year in 1990 and 2014. He has been nominated for more CMA and ACM awards and has more wins in both categories than any other artist.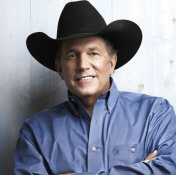 By 2009, he broke Conway Twitty's previous record for the most number-one hits on Billboard's Hot Country Songs chart when his 44 number one singles surpassed Twitty's 40. Strait has amassed 60 number-one hits. "Give It All We Got Tonight" was number one in 2013, breaking a record also previously set by Twitty. Strait currently holds the record for most number one songs on all charts by an artist in any genre of music.
George Strait is also known for his touring career when he designed a 360-degree configuration and introduced festival style tours. For example, the Strait Tours earned $99 million in three years. His final concert for The Cowboy Rides Away Tour at AT&T Stadium in Arlington, Texas, in June 2014, drew 104,793 people, marking a new record for largest indoor concert in North America.
Strait has sold more than 100 million records worldwide, making him one of the best-selling music artists of all time. His certifications from the RIAA include 13 multi-platinum, 33 platinum, and 38 gold albums. His best-selling album is Pure Country (1992), which sold 6 million (6× platinum). His highest certified album is Strait Out of the Box (1995), which sold 2 million copies (8× Platinum due to being a box set with four CDs). According to the RIAA, Strait is the 12th best-selling album recording artist in the United States overall selling over 69 million records across the United States. His influential and record-breaking legacy of his pioneering neotraditionalist country style has garnered him as the "King of Country Music".
Strait's style of country music has been largely labeled as neotraditional country, which relies on traditional instrumentation in country music, i.e. fiddle and pedal steel guitar. His style has also been labeled as Texas country, Western swing, and honky-tonk.
Hire George Strait for your party or event!
George Strait may be available for your next special event!
Book George Strait, now!
Frequently Asked Questions About How To Hire GEORGE STRAIT for a private party or special event.
HOW TO BOOK GEORGE STRAIT?
(i.e., how to hire GEORGE STRAIT for an event)
You are currently on the official site of De La Font Agency. For more than 50 years, we have successfully helped official talent buyers around the world secure quality talent.
We welcome the opportunity to be of service to you. Let's do this the right way! Let's save you time and frustration!
Simply click on the "Let's Get Started!" link found on this page. Then, send us your request for booking information.
Include information about your plans for your event and how taking steps to hire GEORGE STRAIT (or someone similar) might be of special interest.
If you decide you want to look at other names, simply include your talent-fee budget range and indicate that you want to see who else you might be able to afford with such a budget. We can send you a list of names that are affordable and in the style of music you prefer. We hope to save you time and frustration!
HOW MUCH DOES IT COST TO BOOK/HIRE GEORGE STRAIT?
(i.e., what is the booking fee to hire GEORGE STRAIT for an event?)
(i.e., what is GEORGE STRAIT booking fee to perform at an event?)
Official booking fees for GEORGE STRAIT, or any other celebrity, are determined based on a number of factors and may change at anytime without prior notice.
Factors influencing pricing vary and may include date, location, type of event, whether a private party or a public concert, the artist's calendar, whether the artist is on tour or not, how well tickets are selling at the artist's concerts, the current demand for the artist's music, market activity, etc.
As you might expect, the more in-demand the artist is, the more buyers are prepared to pay. Of course, this causes the artist's price to increase as the artist becomes more popular or decrease when becoming less popular.
Exclusive agents with exclusive representation frequently quote a range instead of a specific price, since changes can occur at anytime. Generally, the artist's manager has a role in the decision to accept any particular offer from a talent buyer.
To learn the most current artist's pricing, or the estimated artist's fee for your particular event, simply click on the "Let's Get Started!" link found on this page. Then, send us your request for booking information.
IS GEORGE STRAIT AVAILABLE TO WORK MY EVENT?
(i.e., what is GEORGE STRAIT's availability?)
To learn the artist's current availability for your special event, simply click on the "Let's Get Started!" link found on this page. Then, send us your request for booking information.
Once we have your event/party information, we will be better able to assist you with putting your entertainment talent booking plans in place as your entertainment consultant. Let's get this done right! We look forward to working with you!
TAGS
Genre: Country
  Styles: 
   .Contemporary Country. / ContemporaryCountry
   .New Traditionalist. / NewTraditionalist
   .Western Swing Revival. / WesternSwingRevival
Years active: 
   x70s, x80s, x90s, x00s, x10s, x20s
   1976-present
Born: ..in Texas / born nTexas
Born: ..in Pearsall / born PearsallTX
Born:   May 18, 1952
Based: ..in US
Copyright 1997-2022 Richard De La Font Agency, Inc.. Unauthorized copying, reproduction, broadcast, use or sale of any and/or all portions of this web site is strictly prohibited. All rights reserved. Images are for promotional use by Richard De La Font Agency only. Images may not be copied, modified or reused. This company acts as an entertainment consultant or broker/producer and does not claim or represent itself as the exclusive agent, representative or management of the artists listed on this site.