How To Book 
BOYZ II MEN 
For Your Event!

Boyz II Men may be available for your next special event!

Hits include:
End of the Road
4 Seasons of Loneliness
I'll Make Love To You
It's So Hard To Say Goodbye to Yesterday
On Bended Knee
Uhh Ahh
A Song For Mama
Pass You By
In The Still of The Night (I'll Remember)
Water Runs Dry
Motownphilly
Please Don't Go
Vibin'
No Dejemos Que Muera el Amor
4 Estaciones de Soledad (4 Seasons of Loneliness)
Thank You
Can't Let Her Go
Let It Snow
I Will Get There
The Tracks of My Tears

Genre:  R&B
Styles:  Adult Contemporary, Urban, New Jack Swing, Club/Dance
Years active:  1991-present
Tag:  Orchestra charts available
How To Hire Boyz II Men For A Special Event!
GRAMMY AWARD winning Boyz II Men (pronounced boys to men), also known as B2M, is an American vocal harmony group from Philadelphia, Pennsylvania, best known for emotional ballads and a cappella harmonies.
During the 1990s, Boyz II Men gained international success. Boyz II Men is among the biggest names in a cappella and R&B.
With what was called "crossover appeal", Boyz II Men found themselves at the vanguard of the 1990s movement to take R&B back into the mainstream, where it had been back in the 1970s. Their use of hip-hop beats in combination with R&B was not unique, but it was Boyz II Men's enormous success with mainstream audiences in "putting harmony over the hip-hop tracks" that helped usher in the near-total dominance of the R&B genre on the pop charts in the 2000s and 2010s.
Formed in Philadelphia at that city's High School for the Performing Arts, Boyz II Men were discovered by New Edition member Michael Bivins when they broke into an impromptu routine for him at a Bell Biv DeVoe concert. Bivins, who had previously started his own production company, signed the group and landed them a contract at Motown. Their first album, 1991's "Cooleyhighharmony," was a smash, led by the great dance cut, "Motownphilly." "Cooleyhighharmony," now at 9 million units and counting, became the biggest-selling album ever released by an R&B group.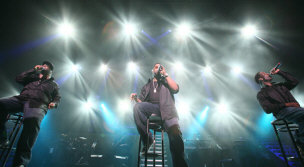 The follow-up single, an a cappella remake of G.C. Cameron's "Hard to Say Goodbye to Yesterday," became the year's hottest love song and the beginning of a supergroup.
With the tightest harmonies of any Soul group in the 90s, Boyz II Men brought an acoustic, old school spirit to a Soul music world that was enamored with electronic funk, and their smooth, romantic approach was embraced by millions.
But unlike the big Soul groups of the 60s and 70s that were formed around dynamic lead singers, Boyz II Men had no recognizable lead voice, but were at their best when all four members sang in unison.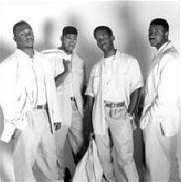 Boyz II Men's next studio album, "II," released in September, 1994, reached a stunning 11 million units in 1995. It was boosted by a record-breaking single, "I'll Make Love To You," which claimed the #1 spot for 14 weeks, tying Whitney Houston for the all-time record.
The group followed "II" with another smash, this time the duet with Mariah Carey, "One Sweet Day."
Boyz II Men have also reached platinum status with their other releases: "Christmas Interpretations," "The Remix Collection" and their video compilation, "Then II Now."
Their 60's street harmony and hip-hop doo wop style serves as the foundation for the groups' exceptional vocals which, at times a cappella, meld the five-men Boyz II Men into one living and golden entity as exemplified by their single "The End of the Road," which set a new record for its No. 1 position on the charts.
Boyz II Men returned in full force in 1997 with their next album, "Evolution." With Boyz II Men now the biggest group in the world, expectations ran high for this album. It included the hits "A Song For Mama" and "4 Seasons of Loneliness" from the movie Soul Food.
They returned in July 2002 with "Full Circle."
In 2004, group member Mike McCary retired from the group due to a chronic back ailment, leaving Boyz II Men as a trio.
Hire Boyz II Men for your event!
Boyz II Men may be available for your next special event!
Book Boyz II Men, now!
Frequently Asked Questions About How To Hire BOYZ II MEN for a private party or special event.
HOW TO BOOK BOYZ II MEN?
(i.e., how to hire BOYZ II MEN for an event)
You are currently on the official site of De La Font Agency. For more than 50 years, we have successfully helped official talent buyers around the world secure quality talent.
We welcome the opportunity to be of service to you. Let's do this the right way! Let's save you time and frustration!
Simply click on the "Let's Get Started!" link found on this page. Then, send us your request for booking information.
Include information about your plans for your event and how taking steps to hire BOYZ II MEN (or someone similar) might be of special interest.
If you decide you want to look at other names, simply include your talent-fee budget range and indicate that you want to see who else you might be able to afford with such a budget. We can send you a list of names that are affordable and in the style of music you prefer. We hope to save you time and frustration!
HOW MUCH DOES IT COST TO BOOK/HIRE BOYZ II MEN?
(i.e., what is the booking fee to hire BOYZ II MEN for an event?)
(i.e., what is BOYZ II MEN booking fee to perform at an event?)
Official booking fees for BOYZ II MEN, or any other celebrity, are determined based on a number of factors and may change at anytime without prior notice.
Factors influencing pricing vary and may include date, location, type of event, whether a private party or a public concert, the artist's calendar, whether the artist is on tour or not, how well tickets are selling at the artist's concerts, the current demand for the artist's music, market activity, etc.
As you might expect, the more in-demand the artist is, the more buyers are prepared to pay. Of course, this causes the artist's price to increase as the artist becomes more popular or decrease when becoming less popular.
Exclusive agents with exclusive representation frequently quote a range instead of a specific price, since changes can occur at anytime. Generally, the artist's manager has a role in the decision to accept any particular offer from a talent buyer.
To learn the most current artist's pricing, or the estimated artist's fee for your particular event, simply click on the "Let's Get Started!" link found on this page. Then, send us your request for booking information.
IS BOYZ II MEN AVAILABLE TO WORK MY EVENT?
(i.e., what is BOYZ II MEN's availability?)
To learn the artist's current availability for your special event, simply click on the "Let's Get Started!" link found on this page. Then, send us your request for booking information.
Once we have your event/party information, we will be better able to assist you with putting your entertainment talent booking plans in place as your entertainment consultant. Let's get this done right! We look forward to working with you!
TAGS
Formed: ..in Pennsylvania
Formed: ..in Philadelphia
Formed:   in 1991
Based: ..in US
Copyright 1997-2022 Richard De La Font Agency, Inc.. Unauthorized copying, reproduction, broadcast, use or sale of any and/or all portions of this web site is strictly prohibited. All rights reserved. Images are for promotional use by Richard De La Font Agency only. Images may not be copied, modified or reused. This company acts as an entertainment consultant or broker/producer and does not claim or represent itself as the exclusive agent, representative or management of the artists listed on this site.