How To Book 
LAKESIDE 
For Your Event!

Lakeside may be available for your next special event!

Hits include:
Fantastic Voyage
It's All The Way Live
I Want To Hold Your Hand
Raid
Your Love Is On The One
Real Love
Something About That Woman
Pull My Strings
Bullseye
Make My Day
Turn The Music Up
From 9:00 Until
We Want You (On The Floor)
Money
Given In To Love

Genre:  R&B
Styles:  Disco, Funk, Quiet Storm, Soul
Years active:  1969-present
How to Hire LAKESIDE for a Party or Special Event!
Lakeside were likely the first band to successfully use a "theme" for each album cover which brought about a lot of notoriety in the music industry and amongst the music faithful. "I wonder what they're going to come out with next" was the question asked by many fans and the people who followed the group. Starting off with "A Shot of Love," the Robin Hood-themed debut in 1978, Lakeside scored a hit, a dance one at that, right off the bat with "All the Way Live."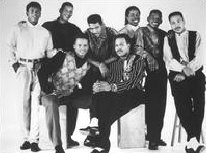 The Dayton, Ohio, based band was formed when Otis Stokes (guitar, vocals) and Thomas Shelby (lead vocals) quit the Bad Bunch to team up with Mark Wood (lead vocals, keyboards) in the Young Underground. After signing a deal in Chi-Town they changed the name to Ohio Lakeside Express, which in due course was thankfully shortened to Lakeside.
In 1972 Lakeside hit the road hit the road for a live gig in Oklahoma City. By this time they had added Stephen Shockley (guitar), Fred Alexander (drums), Tiemeyer McCain (who shared lead vocals w/ Wood and Shelby), Marvin Craig (bass), Fred Lewis (percussion) and Norman Beavers (keyboards). They got the shaft on the OKC gig and ended in La-La Land as one of the first acts signed to Dick Griffey's SOLAR (Sound of Los Angeles Records) label. Likewise the group served as the house band for labelmates, Shalimar and Dynasty, and also ended up penning quite a few tunes for these and other groups.
This funk group secured its first hit in 1978 with "It's All The Way Live."
In 1979, Lakeside released "Rough Riders" with a Wild Bunch theme and the funky dance track, "If You Like Our Music (Get On Up and Move)." 1980 gave them their biggest glory with "Fantastic Voyage" with its pirates motif. The single (R&B #1) by the same name provided the dance tune many were waiting for in the post-disco era. "Fantastic Voyage" was later sampled by Coolio on his smash hit by the same name. That album also featured "Your Love Is On the One" and the ballad "Say Yes." 1981 brought the Aladdin-themed "Your Wish Is My Command." The title track was especially popular among fans.
Singles include "I Want To Hold Your Hand" (1982) and "Outrageous" (1984), both of which reached the US R&B Top 10.
Hire Lakeside for your event!
Lakeside may be available for your next special event!
Book Lakeside, now!
Frequently Asked Questions About How To Hire LAKESIDE for a private party or special event.
HOW TO BOOK LAKESIDE?
(i.e., how to hire LAKESIDE for an event)
You are currently on the official site of De La Font Agency. For more than 50 years, we have successfully helped official talent buyers around the world secure quality talent.
We welcome the opportunity to be of service to you. Let's do this the right way! Let's save you time and frustration!
Simply click on the "Let's Get Started!" link found on this page. Then, send us your request for booking information.
Include information about your plans for your event and how taking steps to hire LAKESIDE (or someone similar) might be of special interest.
If you decide you want to look at other names, simply include your talent-fee budget range and indicate that you want to see who else you might be able to afford with such a budget. We can send you a list of names that are affordable and in the style of music you prefer. We hope to save you time and frustration!
HOW MUCH DOES IT COST TO BOOK/HIRE LAKESIDE?
(i.e., what is the booking fee to hire LAKESIDE for an event?)
(i.e., what is LAKESIDE booking fee to perform at an event?)
Official booking fees for LAKESIDE, or any other celebrity, are determined based on a number of factors and may change at anytime without prior notice.
Factors influencing pricing vary and may include date, location, type of event, whether a private party or a public concert, the artist's calendar, whether the artist is on tour or not, how well tickets are selling at the artist's concerts, the current demand for the artist's music, market activity, etc.
As you might expect, the more in-demand the artist is, the more buyers are prepared to pay. Of course, this causes the artist's price to increase as the artist becomes more popular or decrease when becoming less popular.
Exclusive agents with exclusive representation frequently quote a range instead of a specific price, since changes can occur at anytime. Generally, the artist's manager has a role in the decision to accept any particular offer from a talent buyer.
To learn the most current artist's pricing, or the estimated artist's fee for your particular event, simply click on the "Let's Get Started!" link found on this page. Then, send us your request for booking information.
IS LAKESIDE AVAILABLE TO WORK MY EVENT?
(i.e., what is LAKESIDE's availability?)
To learn the artist's current availability for your special event, simply click on the "Let's Get Started!" link found on this page. Then, send us your request for booking information.
Once we have your event/party information, we will be better able to assist you with putting your entertainment talent booking plans in place as your entertainment consultant. Let's get this done right! We look forward to working with you!
TAGS
 Genre: R&B
  Styles: 
   .Disco. / xDisco
   .Funk. / xFunk
   .Quiet Storm. / QuietStorm
   .Soul. / xSoul
Years active: 
   x70s, x80s, x90s
Formed: ..in Ohio / formed nOhio
Formed: ..in Dayton / formed DaytonOH
Formed:   in 1969
Based: ..in US
Copyright 1997-2022 Richard De La Font Agency, Inc.. Unauthorized copying, reproduction, broadcast, use or sale of any and/or all portions of this web site is strictly prohibited. All rights reserved. Images are for promotional use by Richard De La Font Agency only. Images may not be copied, modified or reused. This company acts as an entertainment consultant or broker/producer and does not claim or represent itself as the exclusive agent, representative or management of the artists listed on this site.