Genre:  Country
Styles:  Contemporary Country
Years active:  1983-present
A-List:  Country
Member:  Brooks & Dunn
How To Hire KIX BROOKS For A Private Party or Special Event!
GRAMMY AWARD winning Leon Eric Brooks III, better known by his stage name Kix Brooks, is an American country music artist, actor, and film producer best known for being one half of the duo Brooks & Dunn and host of radio's American Country Countdown.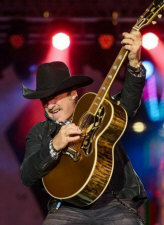 Prior to the duo's foundation, he was a singer and songwriter, charting twice on Hot Country Songs and releasing an album for Capitol Records. Brooks and Ronnie Dunn comprised Brooks & Dunn for twenty years, then both members began solo careers. Brooks' solo career after Brooks & Dunn includes the album New to This Town.
In 2019, Brooks & Dunn were inducted into the Country Music Hall of Fame.
On August 10, 2009, Brooks & Dunn announced to their fans, via their website they intended to disband after twenty years of touring. According to the short statement released on their web site, Brooks & Dunn intended to release a greatest hits album, tour during the rest of 2009, and have a farewell tour in 2010.
Kix Brooks resumed his solo career in 2012, releasing a new 12-track album on September 11, 2012. New to This Town features nine songs co-written by Brooks, including the album's first single, the title track. He followed his second album with the soundtrack to the western film Ambush at Dark Canyon in 2014. Brooks composed the majority of the musical score as well as starring in the film.
On December 3, 2014, Brooks & Dunn reunited, and along with Reba McEntire, performed a series of concerts in Las Vegas, Nevada, throughout the summer and fall of 2015.
Brooks performed at the 2019 Musicians Hall of Fame and Museum Concert and Induction Ceremony.
Hire Kix Brooks for your party or event!
Kix Brooks may be available for your next special event!
Book Kix Brooks, now!
Frequently Asked Questions About How To Hire KIX BROOKS for a private party or special event.
HOW TO BOOK KIX BROOKS?
(i.e., how to hire KIX BROOKS for an event)
You are currently on the official site of De La Font Agency. For more than 50 years, we have successfully helped official talent buyers around the world secure quality talent.
We welcome the opportunity to be of service to you. Let's do this the right way! Let's save you time and frustration!
Simply click on the "Let's Get Started!" link found on this page. Then, send us your request for booking information.
Include information about your plans for your event and how taking steps to hire KIX BROOKS (or someone similar) might be of special interest.
If you decide you want to look at other names, simply include your talent-fee budget range and indicate that you want to see who else you might be able to afford with such a budget. We can send you a list of names that are affordable and in the style of music you prefer. We hope to save you time and frustration!
HOW MUCH DOES IT COST TO BOOK/HIRE KIX BROOKS?
(i.e., what is the booking fee to hire KIX BROOKS for an event?)
(i.e., what is KIX BROOKS booking fee to perform at an event?)
Official booking fees for KIX BROOKS, or any other celebrity, are determined based on a number of factors and may change at anytime without prior notice.
Factors influencing pricing vary and may include date, location, type of event, whether a private party or a public concert, the artist's calendar, whether the artist is on tour or not, how well tickets are selling at the artist's concerts, the current demand for the artist's music, market activity, etc.
As you might expect, the more in-demand the artist is, the more buyers are prepared to pay. Of course, this causes the artist's price to increase as the artist becomes more popular or decrease when becoming less popular.
Exclusive agents with exclusive representation frequently quote a range instead of a specific price, since changes can occur at anytime. Generally, the artist's manager has a role in the decision to accept any particular offer from a talent buyer.
To learn the most current artist's pricing, or the estimated artist's fee for your particular event, simply click on the "Let's Get Started!" link found on this page. Then, send us your request for booking information.
IS KIX BROOKS AVAILABLE TO WORK MY EVENT?
(i.e., what is KIX BROOKS's availability?)
To learn the artist's current availability for your special event, simply click on the "Let's Get Started!" link found on this page. Then, send us your request for booking information.
Once we have your event/party information, we will be better able to assist you with putting your entertainment talent booking plans in place as your entertainment consultant. Let's get this done right! We look forward to working with you!
TAGS
Genre: Country
  Styles: 
   .Contemporary Country. / ContemporaryCountry
Years active:
   x90s, x00s, x10s, x20s
   1983-present
Born: ..in Louisiana / born nLouisiana
Born: ..in Shreveport / born ShreveportLA
Born:   May 12, 1955
Based: ..in US
Based: ..in Tennessee / based nTennessee
Based: ..in Nashville / based NashvilleTN
Tag: MemberOf
Copyright 1997-2022 Richard De La Font Agency, Inc.. Unauthorized copying, reproduction, broadcast, use or sale of any and/or all portions of this web site is strictly prohibited. All rights reserved. Images are for promotional use by Richard De La Font Agency only. Images may not be copied, modified or reused. This company acts as an entertainment consultant or broker/producer and does not claim or represent itself as the exclusive agent, representative or management of the artists listed on this site.