How To Book 
CLINT BLACK 
For Your Event!

Clint Black may be available for your next special event!

Hits include:
Killin' Time
Like the Rain
Loving Blind
Nobody's Home
Nothin' But the Taillights
Summer's Coming
Walkin' Away
When I Said I Do
When My Ship Comes In
Where Are You Now
A Better Man
A Good Run of Bad Luck
The Shoes You're Wearing
One Emotion
Something That We Do
State of Mind
Boogie Man
My Imagination
Rainbow in the Rain
Drinkin' Songs and Other Logic
The Strong One
Long Cool Woman

Genre:  Country
Styles:  New Traditionalist, Contemporary Country
Years active:  1983-present
A-List:  Country
How To Hire CLINT BLACK For A Private Party or Special Event!
GRAMMY AWARD winning Clint Black is an American country music singer, songwriter, musician, multi-instrumentalist, record producer, and actor. Continue reading to learn how to hire Clint Black.
During his long reign as one of country music's most consistent chart kings, Clint Black has established a sterling reputation as a song poet, singer and showman. He has brought the music world a string of million-selling albums and more than 20 top-10 hits by continually urging his creative spirits to new heights.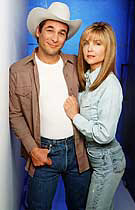 "Every now and then I like to throw myself a curve ball, just to see which way I'll move," says Black with a chuckle. "You won't naturally move in any direction unless you make yourself."
Clint Black was born in New Jersey, but raised in Katy, Texas, a suburb of Houston. As a child, he listened to both country and rock & roll, but he didn't begin playing guitar until the age of 13, when he started playing harmonica. Two years later, he began writing songs, as well as performing in his brother Kevin's band, where he played bass and sang. In the early '80s, he began playing music on the streets of Katy, eventually working his way into coffeehouses, bars, and night clubs.
Hayden Nicholas was the first to join Clint Black in his creative endeavor. The struggling Houston honky-tonker met Nicholas in January 1987. They began to co-write and to record in Hayden's little studio. The first thing they got on tape was "Nobody's Home," which later became one of Black's chart-topping hits. That fall, Clint Black introduced his music to RCA Records, who subsequently released his debut album, "Killin' Time," in 1989.
He burst on the charts in February 1989 with "Better Man," the first of five consecutive No.1 hits from his debut album that made him the leader of the "new country" movement. By that summer, Black was playing arenas as a special guest on some of the biggest country tours. In October of that year, Clint Black was awarded the Country Music Association's prestigious Horizon Award for his achievements as a new artist.
His reputation spread like wildfire throughout 1990. Black became a huge media and fan favorite with his unflagging energy, professionalism, friendliness, magnetism and easy-going charm. "Killin' Time" was succeeded by "Put Yourself In My Shoes," which yielded four more top-10 hits and became his second multi-million seller. He won the CMA's Male Vocalist of the Year award, the American Music Award as Favorite New Male Country Artist and also received Album of the Year, Single of the Year, Best New Male Vocalist and Best Male Vocalist awards from the Academy of Country Music, all in one year.
Clint Black joined the cast of the Grand Ole Opry in January 1991. In mid-year the legendary Roy Rogers became the first of his duet partners. He and Lisa Hartman married that October. "The Hard Way" became his third album in early 1992. Black promoted it with a lavish $250,000 stage production that was seen by more than a million people that year.
His duet with Wynonna, "A Bad Goodbye," became a massive hit in 1993 and their national tour together was named Concert of the Year by Playboy. "No Time To Kill" was issued as Black's fourth platinum CD. Contributing to "Common Thread: Songs of The Eagles," he recorded "Desperado," which found its own legs as a country radio favorite. That album earned the CMA's Album of the Year honor.
Thanks to a string of hits from his fifth CD, "One Emotion," Clint Black was named radio's most played country artist of 1994 by Billboard magazine. In September 1994, his Merle Haggard song collaboration "Untanglin' My Mind" hit the charts. Also in '94, Black staged his acting debut in TV's "Wings" and recorded "A Good Run of Bad Luck" for Mel Gibson's "Maverick," where he appeared as a gambler who was thrown overboard for cheating. The song, which was featured on the movie's soundtrack, also inspired Black's first foray into video directing.
Black continued to direct his own videos, including "Summer's Comin'," a star-studded video featuring appearances by Jay Leno, Dick Clark, Howie Mandel, David Hasselhoff, Joey Lawrence, Lee Sklar, George Kennedy, Gerald McRainey and Lisa Hartman Black.
In 1995, Clint Black issued his holiday collection of original compositions, "Looking for Christmas," and was still seeing success from back-to-back chart-topping singles from his "One Emotion" album.
The "Greatest Hits" album contained three new tunes. Two of them, "Like the Rain" and "Halfway Up," became his 23rd and 24th top-10 smashes.
Hire Clint Black for your event!
Clint Black may be available for your next special event!
Book Clint Black, now!
Frequently Asked Questions About How To Hire CLINT BLACK for a private party or special event.
HOW TO BOOK CLINT BLACK?
(i.e., how to hire CLINT BLACK for an event)
You are currently on the official site of De La Font Agency. For more than 50 years, we have successfully helped official talent buyers around the world secure quality talent.
We welcome the opportunity to be of service to you. Let's do this the right way! Let's save you time and frustration!
Simply click on the "Let's Get Started!" link found on this page. Then, send us your request for booking information.
Include information about your plans for your event and how taking steps to hire CLINT BLACK (or someone similar) might be of special interest.
If you decide you want to look at other names, simply include your talent-fee budget range and indicate that you want to see who else you might be able to afford with such a budget. We can send you a list of names that are affordable and in the style of music you prefer. We hope to save you time and frustration!
HOW MUCH DOES IT COST TO BOOK/HIRE CLINT BLACK?
(i.e., what is the booking fee to hire CLINT BLACK for an event?)
(i.e., what is CLINT BLACK booking fee to perform at an event?)
Official booking fees for CLINT BLACK, or any other celebrity, are determined based on a number of factors and may change at anytime without prior notice.
Factors influencing pricing vary and may include date, location, type of event, whether a private party or a public concert, the artist's calendar, whether the artist is on tour or not, how well tickets are selling at the artist's concerts, the current demand for the artist's music, market activity, etc.
As you might expect, the more in-demand the artist is, the more buyers are prepared to pay. Of course, this causes the artist's price to increase as the artist becomes more popular or decrease when becoming less popular.
Exclusive agents with exclusive representation frequently quote a range instead of a specific price, since changes can occur at anytime. Generally, the artist's manager has a role in the decision to accept any particular offer from a talent buyer.
To learn the most current artist's pricing, or the estimated artist's fee for your particular event, simply click on the "Let's Get Started!" link found on this page. Then, send us your request for booking information.
IS CLINT BLACK AVAILABLE TO WORK MY EVENT?
(i.e., what is CLINT BLACK's availability?)
To learn the artist's current availability for your special event, simply click on the "Let's Get Started!" link found on this page. Then, send us your request for booking information.
Once we have your event/party information, we will be better able to assist you with putting your entertainment talent booking plans in place as your entertainment consultant. Let's get this done right! We look forward to working with you!
Copyright 1997-2022 Richard De La Font Agency, Inc.. Unauthorized copying, reproduction, broadcast, use or sale of any and/or all portions of this web site is strictly prohibited. All rights reserved. Images are for promotional use by Richard De La Font Agency only. Images may not be copied, modified or reused. This company acts as an entertainment consultant or broker/producer and does not claim or represent itself as the exclusive agent, representative or management of the artists listed on this site.