How To Book 
SAM SMITH 
For Your Event!

Sam Smith may be available for your next special event!

Hits include:
Stay With Me
Lay Me Down
Leave Your Lover
Have Yourself A Very Merry Christmas
Writing's On The Wall
Like I Can
I'm Not The Only One
Promises
Not In That Way
One Last Song
Money on My Mind
Fire on Fire
Too Good at Goodbyes
To Die For
Baby, You Make Me Crazy
Dancing with a Stranger
How Do You Sleep
I Feel Love
Diamonds
Kids Again
Lighthouse Keeper
Love Me More
Genre:  R&B, Pop/Soft Rock
Styles:  Contemporary Pop/Rock, Soul, Adult Contemporary R&B
Years active:  2007-present
How To Hire SAM SMITH For a Party or Special Event!
GRAMMY AWARD winning Samuel Frederick Smith, professionally known as Sam Smith, is an English singer and songwriter.
After rising to prominence in October 2012 by featuring on Disclosure's breakthrough single "Latch", which peaked at number eleven on the UK Singles Chart, they were subsequently featured on Naughty Boy's "La La La", which became a number one single in May 2013. In December 2013, Smith was nominated for the 2014 Brit Critics' Choice Award and the BBC's Sound of 2014 poll, winning both.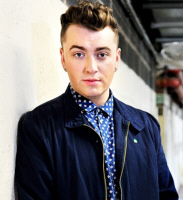 As of April 2022, Sam Smith had sold more than 33 million albums and 227 million singles worldwide. Smith's achievements include four Grammy Awards, three Brit Awards, three Billboard Music Awards, and an American Music Award, as well as a Golden Globe and an Academy Award. Smith is genderqueer and uses they/them pronouns.
Smith cited Adele and Amy Winehouse as primary influences. They admire Adele's "honesty in her music" and the way she has handled fame; they expressed a wish to maintain a similar public image. Winehouse's debut album, Frank, was the first album Smith ever bought. Early in their career, Smith received advice from Mary J. Blige and Chaka Khan, both of whom they listened to during their youth; Smith said that this inspired them to offer help to new artists themself. They called Taylor Swift a "role model" and praised her "soulfulness" as well as her "honesty".
Smith stated that the story of Lady Gaga's career beginnings encouraged them to move to London in order to start their own career. They also credited her with helping them come out as non-binary. Sam Smith described Robyn as a major influence on Love Goes and said that they listened to her "nonstop" while making the album because they "could dance and be sad at the same time and feel empowered". They further cited Beyoncé and Christina Aguilera as sources of inspiration and empowerment. In a January 2016 interview with Rolling Stone, Smith named Whitney Houston and Mariah Carey as the greatest R&B voices. Smith's other influences include Britney Spears and Brandy.
In an October 2017 interview for Attitude magazine, Smith spoke of the impact of their close friend Ed Sheeran's success: "It makes you push yourself. Watching him this past year has just been incredible, but yeah, of course it makes me hungry." In a January 2015 interview with GQ magazine, Smith had previously mentioned that they "envy the competition that people like [Frank] Sinatra would have […] because you could tell he was working off them".
Hire Sam Smith for your party or event!
Sam Smith may be available for your next special event!
Book Sam Smith, now!
Frequently Asked Questions About How To Hire SAM SMITH for a private party or special event.
HOW TO BOOK SAM SMITH?
(i.e., how to hire SAM SMITH for an event)
You are currently on the official site of De La Font Agency. For more than 50 years, we have successfully helped official talent buyers around the world secure quality talent.
We welcome the opportunity to be of service to you. Let's do this the right way! Let's save you time and frustration!
Simply click on the "Let's Get Started!" link found on this page. Then, send us your request for booking information.
Include information about your plans for your event and how taking steps to hire SAM SMITH (or someone similar) might be of special interest.
If you decide you want to look at other names, simply include your talent-fee budget range and indicate that you want to see who else you might be able to afford with such a budget. We can send you a list of names that are affordable and in the style of music you prefer. We hope to save you time and frustration!
HOW MUCH DOES IT COST TO BOOK/HIRE SAM SMITH?
(i.e., what is the booking fee to hire SAM SMITH for an event?)
(i.e., what is SAM SMITH booking fee to perform at an event?)
Official booking fees for SAM SMITH, or any other celebrity, are determined based on a number of factors and may change at anytime without prior notice.
Factors influencing pricing vary and may include date, location, type of event, whether a private party or a public concert, the artist's calendar, whether the artist is on tour or not, how well tickets are selling at the artist's concerts, the current demand for the artist's music, market activity, etc.
As you might expect, the more in-demand the artist is, the more buyers are prepared to pay. Of course, this causes the artist's price to increase as the artist becomes more popular or decrease when becoming less popular.
Exclusive agents with exclusive representation frequently quote a range instead of a specific price, since changes can occur at anytime. Generally, the artist's manager has a role in the decision to accept any particular offer from a talent buyer.
To learn the most current artist's pricing, or the estimated artist's fee for your particular event, simply click on the "Let's Get Started!" link found on this page. Then, send us your request for booking information.
IS SAM SMITH AVAILABLE TO WORK MY EVENT?
(i.e., what is SAM SMITH's availability?)
To learn the artist's current availability for your special event, simply click on the "Let's Get Started!" link found on this page. Then, send us your request for booking information.
Once we have your event/party information, we will be better able to assist you with putting your entertainment talent booking plans in place as your entertainment consultant. Let's get this done right! We look forward to working with you!
TAGS
Genre: Rock 1
Genre: R&B
Styles:
.Contemporary Pop/Rock. / ContemporaryPopRock
.Soul. / xSoul
.Adult Contemporary R&B. / AdultContemporaryR&B
Years active:
x10s, x20s
2007-present
Born: ..in England
Born: ..in Cambridgeshire
Born: ..in Great Chishill
Born:   May 19, 1992
Based: ..in England
Copyright 1997-2022 Richard De La Font Agency, Inc.. Unauthorized copying, reproduction, broadcast, use or sale of any and/or all portions of this web site is strictly prohibited. All rights reserved. Images are for promotional use by Richard De La Font Agency only. Images may not be copied, modified or reused. This company acts as an entertainment consultant or broker/producer and does not claim or represent itself as the exclusive agent, representative or management of the artists listed on this site.