How To Book 
JILL SCOTT 
For Your Event!

Jill Scott may be available for your next special event!

Hits include:
Whatever
A Long Walk
The Way
He Loves Me
Hate On Me
Gettin' In The Way
Golden
My Love
Whatever
Cross My Mind
A Long Walk
He Loves U Not
The Way
The Fact Is (I Need You)
Whenever You're Around
Blessed

Genre:  R&B
Styles:  Contemporary R&B, Funk, Neo-Soul, Hip-Hop
Years active:  1999-present
How To Hire Jill Scott For A Private Party Or Special Event!
GRAMMY AWARD winning Jill Scott is an American singer, songwriter, model, poet and actress.
Born in 1972 in North Philadelphia, Jill Scott grew up in the ghetto with her mom and grandmother. A deeply loved and gifted child, she learned to talk at only eight months and was reading by age four. Always the center of attention, her principal in elementary school described her as a little butterfly.
After running from Jill's abusive stepfather, mother and child moved in with Jill's grandmother, with whom she had a very close bond. After a rough but memorable childhood, Scott attended Temple University, studying secondary education. She was planning on becoming a high-school English teacher.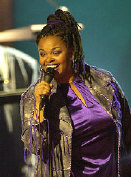 When she was placed at a school as a student-teacher, her fellow professors disapproved of her unique method of teaching the kids: she often incorporated singing and melody in order to help with memorization. Due to the negative comments she was receiving, she quit.
Shortly thereafter, a friend helped her in joining a local theater troop. After some hard work, she earned a spot on the Canadian cast of Rent, began to do poetry readings and befriended some big names in the Philly artistic community, included DJ Jazzy Jeff. It was here that Scott's musical career took off.
Encouraged by Jazzy Jeff and Ahmir "Questolove" Thompson of the hip-hop group The Roots, Scott wrote several songs in only three days during the summer of 1999. One of them, entitled "You Got Me," was performed by Erykah Badu and The Roots, and won a Grammy for Best Rap Performance (Duo or Group). A few months later, after Jeff burned 100 demo CDs and marketed the soul singer, Jill Scott signed with the new label Hidden Beach. During this whole process and since then, she collaborated with Will Smith and Common, and worked on soundtracks for "Down to Earth," "Wild, Wild West" and "In Too Deep."
Amazingly, she made 52 songs for her debut album and had a lot of trouble trimming it down. Finally, after much deliberation, "Who Is Jill Scott? Words & Sounds, Vol. I" was released in 2000. It featured music that was youthful enough for the younger generation and soulful enough for those above 40.
Accolades came pouring in for her unique contribution to hip-hop: "Who Is Jill Scott?" was certified platinum, and she received three Grammy nominations (including one for Best New Artist), three NAACP Image rewards and one Soul Train Award for Best Female R&B Album. Her fame carried her on stage as she performed on VH1's Divas Live with Aretha Franklin; speaking of Aretha, Jill Scott was the 2001 recipient of the Aretha Franklin Award as "Entertainer of the Year" at the Lady of Soul Awards.
Awards include —
Best R&B/Soul Album, Female ("Who Is Jill Scott? Words and Sounds Vol. 1")
— Soul Train Music Awards, 2001
Entertainer of the Year, Aretha Franklin Award, 2001
Hire Jill Scott for your event!
Jill Scott may be available for your next special event!
Book Jill Scott, now!
Frequently Asked Questions About How To Hire JILL SCOTT for a private party or special event.
HOW TO BOOK JILL SCOTT?
(i.e., how to hire JILL SCOTT for an event)
You are currently on the official site of De La Font Agency. For more than 50 years, we have successfully helped official talent buyers around the world secure quality talent.
We welcome the opportunity to be of service to you. Let's do this the right way! Let's save you time and frustration!
Simply click on the "Let's Get Started!" link found on this page. Then, send us your request for booking information.
Include information about your plans for your event and how taking steps to hire JILL SCOTT (or someone similar) might be of special interest.
If you decide you want to look at other names, simply include your talent-fee budget range and indicate that you want to see who else you might be able to afford with such a budget. We can send you a list of names that are affordable and in the style of music you prefer. We hope to save you time and frustration!
HOW MUCH DOES IT COST TO BOOK/HIRE JILL SCOTT?
(i.e., what is the booking fee to hire JILL SCOTT for an event?)
(i.e., what is JILL SCOTT booking fee to perform at an event?)
Official booking fees for JILL SCOTT, or any other celebrity, are determined based on a number of factors and may change at anytime without prior notice.
Factors influencing pricing vary and may include date, location, type of event, whether a private party or a public concert, the artist's calendar, whether the artist is on tour or not, how well tickets are selling at the artist's concerts, the current demand for the artist's music, market activity, etc.
As you might expect, the more in-demand the artist is, the more buyers are prepared to pay. Of course, this causes the artist's price to increase as the artist becomes more popular or decrease when becoming less popular.
Exclusive agents with exclusive representation frequently quote a range instead of a specific price, since changes can occur at anytime. Generally, the artist's manager has a role in the decision to accept any particular offer from a talent buyer.
To learn the most current artist's pricing, or the estimated artist's fee for your particular event, simply click on the "Let's Get Started!" link found on this page. Then, send us your request for booking information.
IS JILL SCOTT AVAILABLE TO WORK MY EVENT?
(i.e., what is JILL SCOTT's availability?)
To learn the artist's current availability for your special event, simply click on the "Let's Get Started!" link found on this page. Then, send us your request for booking information.
Once we have your event/party information, we will be better able to assist you with putting your entertainment talent booking plans in place as your entertainment consultant. Let's get this done right! We look forward to working with you!
TAGS
Born: ..in Pennsylvania 
Born: ..in Philadelphia
Born:   Apr 4, 1972
Raised: ..in Pennsylvania
Raised: ..in Philadelphia
Based: ..in US
Based: ..in Tennessee
Based: ..in Franklin
Copyright 1997-2022 Richard De La Font Agency, Inc.. Unauthorized copying, reproduction, broadcast, use or sale of any and/or all portions of this web site is strictly prohibited. All rights reserved. Images are for promotional use by Richard De La Font Agency only. Images may not be copied, modified or reused. This company acts as an entertainment consultant or broker/producer and does not claim or represent itself as the exclusive agent, representative or management of the artists listed on this site.