How To Book 
CIARA 
For Your Event!

Ciara may be available for your next special event!

Hits include:
1, 2 Step
Goodies
Oh
Promise
Get Up
Like A Boy
Can't Leave 'Em Alone
And I
Ride
Love Sex Magic
Like A Surgeon
I'm On
Speechless
Ride
Pretty Girl Swag
Gimme Dat
Never Ever
Go Girl
Dance Like We're Making Love
Level Up
I Bet
I'm Out
Body Party

Genre:  R&B, Rap/Hip-Hop
Styles:  Contemporary R&B, Southern Rap, Pop
Years active:  2002-present
How To Hire CIARA For A Special Event!
GRAMMY AWARD winning Ciara Princess Wilson, née Harris, is an American singer.
Born in Fort Hood, Texas, her family eventually settled in Atlanta, Georgia, where she joined the girl group Hearsay.
Ciara is known for her often "breathy soprano" vocals. Allison Stewart of The Washington Post commented that she has a "reedy, agile voice, capable of conveying the only three emotions (sexy, sassy, sad) an R&B singer needs".
Randall Roberts of the Los Angeles Times said that she "has been the most synthetic of the R&B divas over the past decade, an electro-leaning vocalist whose instrumental palate has heavily favored stark 808 beats, sassy and seductive vocal lines, and, often, weird, futuristic Gary Numan-esque bleeps woven through."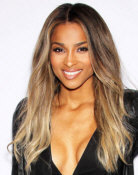 Ciara's music is generally contemporary R&B, but it also incorporates other genres including hip hop, crunk, dance-pop, electropop and funk.
Take the best songwriters and the best singers, add the most exciting performers and the best all around personalities, throw in the hottest looks and the sexiest smiles – mix them all together and the finished product would probably look and sound a lot like Ciara.
The beauty from Atlanta is the multi-talented scene-stealer to nudge her way to center stage with attention-grabbing vocals, irresistible songwriting and killer dance moves.
The Austin, Texas native – a 'military brat' who has lived in Germany, New York, California, Arizona and Nevada – moved to Atlanta as a child and, since that time, has found herself in the mix with some of the city's biggest and brightest producers, among them Jazze Pha – who signed Ciara to his Sho' Nuff label after working with her for a mere five days – and his royal crunkness Lil' Jon, who produced the singer's lead single, the "Crunk & B" cautionary wrist-slapper "Goodies."
Dubbed as the First Lady of "Crunk & B", Ciara is only the second artist (the first was Usher with his hit single "Yeah") to release a Crunk & B song. Says Lil' Jon of the newly-formed genre, "Crunk & B songs are R&B songs that get you crunk. They make you wanna wild out. ['Goodies'] is a female empowerment record. The female has the power. The female is in control on this song. This is one of those records for the ladies."
"I'm so happy I wrote 'Goodies'," Ciara enthuses. "I pray everybody gets it the way they're supposed to." In the hook, Ciara warns, "If you're looking for the goodies keep on looking 'cause they stay in the jar." "I think we all run across this problem," she explains. "A guy thinks you're gonna be with him because he's got the iced out chain, he's popular and all that. But that ain't it. That ain't gonna make me give you my number and that's definitely not gonna make me go home with you. It's the truth."
Jon says he was impressed by Ciara's approach to the song, which she co-wrote with "Yeah" songwriter Sean Garrett. "She did an excellent job on it," says Jon. "With this record, it's the way she rides over the track, the way she freaks the beat and the stuff that she says to connect her with other women. She's saying stuff that women can relate to. Guys are always trying to get some from a girl and she's like you can't have it. That's what makes her stand out and this is one of those records with that undeniable energy where, as soon as the beat comes on, it catches you and makes you move. You can't sit still when that song comes on. Crunk music, you can't fake because it's all about the energy. It's gotta be real."
And Ciara is as real as they come. Her self-titled Sho' Nuff/LaFace/Zomba Label Group debut is a heaping dose of real life issues conveyed through everyday language and extraordinary production and vocal delivery. The album is a complete work of art and a masterful mixture of messages for the young and not so young.
On "Thugstyle," a song she wrote with songwriter Johnta Austin (Toni Braxton, Aaliyah) Ciara displays her true 'round the way girl' nature. "It's kinda how a guy would talk to a female, always spittin' game," she explains. "To me, it's a little slick. It's just a fun record. Everyone loves to sing along with it."
"Ooh Baby," written by Sean Garrett and Keri Hilson (Ruben Studdard) is about good old-fashioned infatuation. "I'm just really into this guy," Ciara explains, in character. "I consider myself a 'round-the-way girl, down to earth and basically the kind of guy I like is like this guy who pulls up in the F-150 pickup with the crazy banging system. He's a 'round-the-way dude, kinda 'hood. But I'm like really into him."
Considering the short time that she's been in the music business, Ciara has grown plenty. Much of Ciara's growth and maturity come from her determination to pursue her dreams. "I remember watching Destiny's Child perform on TV one day. That's when I made up my mind: 'Hey I wanna do this.' I watched my peers around me and they were worried about who's wearing what, going to school, trying to talk to somebody and I was like 'I'm trying to be somebody. What can I do to get there as soon as possible?'"
Ciara set her sights on her dream and went after it. "I wrote down on paper that I had a goal to be a professional singer and I wanna be there soon….I had to sacrifice a lotta things and I think that was the key thing to get me there. I cut out going to the movies, I cut out hanging with my friends, I actually told some of my friends 'This month we're not gonna hang out or talk on the phone.' I don't have too many friends anyway – less is better for me. I cut out the boyfriend – actually I had my heart broken so I was really like, 'I'm 'bout to do this. I'm 'bout to be on top.'"
From there, things moved swiftly: She joined a girl group, left the group to go solo, nabbed a publishing deal and eventually hooked up with Jazze Pha, whom she refers to as her "music soul mate." "God really put him in my life for a reason," she says. "Our vibe is incredible."
Now, Ciara is ready to share her vibe with the rest of the world, but "It's not just about penning clever lyrics and singing and dancing to a banging track," she says. "My goal is to deliver a positive message and let people know they're not the only one going through things….I've been blessed to be able to counsel my peers. I'm here to deliver a message and I think the impression that you make is very important. I don't wanna write records just to write. I wanna have a message to everything that I write. That gives you longevity."
Hire Ciara for your event!
Ciara may be available for your next special event!
Book Ciara , now!
Frequently Asked Questions About How To Hire CIARA for a private party or special event.
HOW TO BOOK CIARA?
(i.e., how to hire CIARA for an event)
You are currently on the official site of De La Font Agency. For more than 50 years, we have successfully helped official talent buyers around the world secure quality talent.
We welcome the opportunity to be of service to you. Let's do this the right way! Let's save you time and frustration!
Simply click on the "Let's Get Started!" link found on this page. Then, send us your request for booking information.
Include information about your plans for your event and how taking steps to hire CIARA (or someone similar) might be of special interest.
If you decide you want to look at other names, simply include your talent-fee budget range and indicate that you want to see who else you might be able to afford with such a budget. We can send you a list of names that are affordable and in the style of music you prefer. We hope to save you time and frustration!
HOW MUCH DOES IT COST TO BOOK/HIRE CIARA?
(i.e., what is the booking fee to hire CIARA for an event?)
(i.e., what is CIARA booking fee to perform at an event?)
Official booking fees for CIARA, or any other celebrity, are determined based on a number of factors and may change at anytime without prior notice.
Factors influencing pricing vary and may include date, location, type of event, whether a private party or a public concert, the artist's calendar, whether the artist is on tour or not, how well tickets are selling at the artist's concerts, the current demand for the artist's music, market activity, etc.
As you might expect, the more in-demand the artist is, the more buyers are prepared to pay. Of course, this causes the artist's price to increase as the artist becomes more popular or decrease when becoming less popular.
Exclusive agents with exclusive representation frequently quote a range instead of a specific price, since changes can occur at anytime. Generally, the artist's manager has a role in the decision to accept any particular offer from a talent buyer.
To learn the most current artist's pricing, or the estimated artist's fee for your particular event, simply click on the "Let's Get Started!" link found on this page. Then, send us your request for booking information.
IS CIARA AVAILABLE TO WORK MY EVENT?
(i.e., what is CIARA's availability?)
To learn the artist's current availability for your special event, simply click on the "Let's Get Started!" link found on this page. Then, send us your request for booking information.
Once we have your event/party information, we will be better able to assist you with putting your entertainment talent booking plans in place as your entertainment consultant. Let's get this done right! We look forward to working with you!
TAGS
Born: ..in Texas
Born: ..in Austin
Born:   Oct 25, 1985
Based: ..in US
Based: ..in Georgia
Based: ..in Atlanta
Copyright 1997-2022 Richard De La Font Agency, Inc.. Unauthorized copying, reproduction, broadcast, use or sale of any and/or all portions of this web site is strictly prohibited. All rights reserved. Images are for promotional use by Richard De La Font Agency only. Images may not be copied, modified or reused. This company acts as an entertainment consultant or broker/producer and does not claim or represent itself as the exclusive agent, representative or management of the artists listed on this site.